Sardinian Minestrone is made with seasonal garden vegetables, beans and and a grain. A popular dish from one of the world's blue zones. It's got plenty of protein and can be served as a satisfying meal all on its own.
The Blue Zones are parts of the world where there are more centenarians (people living to 100) than anywhere else.
The island of Sardinia in Italy is one of the world's blue zones. One of the most popular dishes in this region is a version of minestrone soup that is usually made with with beans, fregula (a type of pasta) and vegetables.
You can learn more about the world's blue zones from this website on the blue zones.
The type of grain used for Sardinian Minestrone
Although this soup can be made with different types of grains, and is sometimes made with barley, Sardinian Minestrone is usually made with a type of pasta. Fregula pasta is often used, which is like a giant couscous.
The version I made is with orzo pasta. I find that this pasta is usually easier to find. Orzo pasta is shaped like rice, and I think it is really well suited to this soup.
Soup made with garden vegetables
This Sardinian Minestrone is traditionally made with seasonal vegetables from the garden so it would usually change depending on what vegetables were available. It's very adaptable and you can switch in and out the vegetables as you wish.
Fresh garden herbs really give this soup a satisfying flavour. This version is made with fresh parsley, dried mixed herbs and bay leaves. Fresh basil is also often used in this recipe along with fresh parsley and if you have fresh herbs available such as basil, oregano or thyme, these all work really nicely.
Beans for the Sardinian Minestrone
The beans used in this dish provide plenty of protein and fibre. My version uses cannellini beans and chickpeas that are popular beans used in Italy, and all over the world, but you can use all different types of beans. In Sardinia this soup is often made with fava beans, although I found these a little more tricky to find on the supermarket shelves in Ireland.
Ingredients:
This version of Sardinian Minestrone is made with the following ingredients:
Chickpeas
Cannellini beans
Fennel
Carrots
Celery
Orzo rice
Onion
Garlic
Chopped tomatoes
Fresh parsley
Shredded cabbage
Dried mixed herbs
Potatoes
Bay leaves
Oil
Vegetable stock
How to Make the Sardinian Minestrone Soup
The soup is easy to make. It's a one pot recipe that involves throwing all of the ingredients into a pot (in some sort of specific order).
You'll need a big pot for this one so make sure to choose a nice big pot.
Then you start by sautéing the onion in a little oil, then adding the garlic once the onions are starting to brown slightly.
You then add the fennel, carrots and celery and cook these for another few minutes giving the pot a regular stir.
You then add the vegetable stock, drained beans and chickpeas, chopped tomatoes, parsley, potatoes and bay leaves. To add some cruciferous goodness, I then add some cabbage by gating in around half of a small cabbage with a course grater.
Bring the soup to a boil, then turn down to a gentle simmer and cook for around 25 minutes with the lid on.
Then add the pasta and cook until the pasta is cooked, which is usually an additional 10 minutes.
Then serve in bowls with some fresh parsley to garnish. Season with black pepper and salt according to taste.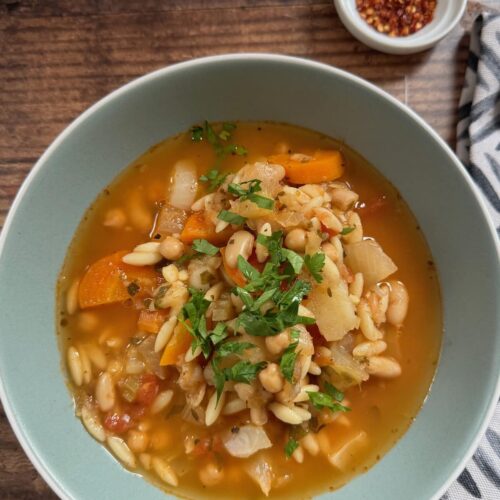 Sardinian Minestrone
A lovely Sardinian Minestrone soup with garden vegetables, beans and herbs. Inspired by one of the world's blue zones.
Ingredients
2

litres

vegetable stock

(4 cups)

1

fennel bulb

(chopped)

250g

carrots

(2 medium, peeled and chopped)

1

tin

chickpeas

1

tin

cannellini beans

2

sticks

celery

(chopped)

150g

orzo pasta

500g

potatoes

(3 medium, peeled and cut into cubes)

2

bay leaves

20g

fresh parsley

(1 bunch)

1

tsp

mixed herbs

1

onion

(chopped)

4

garlic cloves

(finely chopped)

150g

green cabbage

(1/2 a small head)

1

tin

chopped tomatoes

1

tbsp

oil
Instructions
First of all chop and prepare your vegetables

Then grab a big pot (make sure its big) and add the oil and the onions and bring to a medium/high heat on the hob. Cook until the onions start to brown slightly.

Add the garlic and cook for another minute on

Add the celery, carrots, fennel, bay leaves and mixed herbs. Cook for 3 to 4 minutes, giving everything a stir every minute or so.

Add the vegetable stock and chopped tomatoes. Drain and add the beans. Turn up to bring to a boil and grate in the cabbage.

Once the pot starts to bubble, turn down to a gentle simmer and cook for around 25 minutes stirring regularly.

Add the orzo pasta and chopped parsley and cook for another 10-12 minutes until the pasta is cooked.

Ladle the soup into bowls. Add a little more parsley to garnish, and add salt and pepper according to your own tastes.
More soup recipes to try
I also have another Healthy Minestrone Soup to try out if you like this soup.
Some of my other favourite soup recipes you might like to try are the following: