A Warm Comforting and Healthy Dish
There are few things more comforting on a cold day than a warm, comforting bowl of stew. Its a perfect meal for a cold winter's day. If you've been outside in the cold for a while and need warming up, its especially satisfying.
For me it invokes an image of coming in to a warm kitchen after a long day working in the fields, to a warm pot of stew bubbling away on the hob.
We have a garden rather than fields, and I've never managed a full day out in the cold. So the reality is more of a cold hour outside playing football with the kids.
The combination of different herbs in this stew creates a lovely flavour. The fresh parsley added at the end really finishing this off. I'm a big fan of flavouring food with herbs and spices, without adding too much fats, oils or salt. This stew is full of flavour while also being a low calorie choice.
How to Make this Stew
You can check out the recipe card for detailed cooking instructions.
This stew doesn't involve too much washing up as it's a one pot stew made in a Dutch Oven (also called a casserole dish). Dutch ovens are great for even heat distribution with their thick base, however you can also use any big pot.
You start by adding some oil to the Dutch oven and sautéing some onion and garlic for a few minutes until the onion starts to soften.
You then add the chopped celery, mushrooms and carrots and cook for another few minutes stirring regularly to prevent burning.
Then you add the rest of your ingredients, to a boil and then down to a gentle simmer for around 20 minutes, placing the lid on the Dutch Oven.
Eat Your Greens
I'm a big advocate of getting as many greens into the diet as possible. They are nutrition super stars. You can use spinach or other greens for this recipe, but I am a big fan of kale and love the texture it provides to this stew. You can check out the Mayo Clinic here, to read more about kale including the health benefits.
I usually go for a low sodium vegetable stock, and if I can't find a low sodium version I dilute the normal version a little more than on the directions. You don't need to do this, and can use regular vegetable stock cubes. I prefer to under do (is that a term?) rather than over do the salt, and then season the finished product with a little more if required.
For other warm comforting bowls of goodness on a cold day you may also like my leek and potato soup or chickpea and red lentil soup.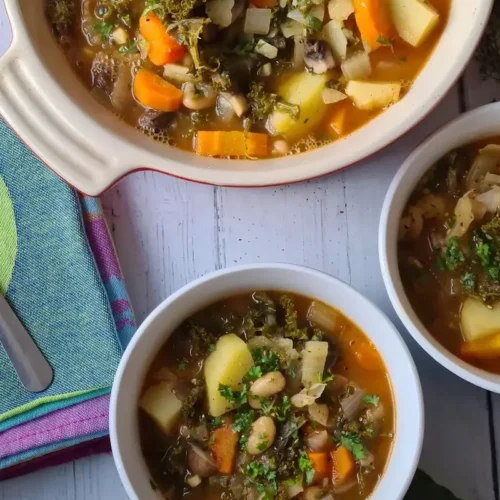 Dutch Oven Vegetable Stew
A healthy and comforting vegetable stew. Flavoured with a mix of herbs and low in calories. 
Ingredients
600

g

potatoes

120

g

kale

1 400

g

can of cannellini beans

1

litre of vegetable stock

I choose a low sodium one

120

g

mushrooms

2

medium carrots

2

small onions

or one large

4

cloves

of garlic

2

tbsp

tomato puree

2

tbsp

red wine vinegar

1

sprig of fresh thyme

of 1 tsp of dried thyme

2

bay leaves

1/2

tsp

dried rosemary

1

small bunch of fresh parsley
Instructions
Add the peeled and chopped onion, chopped celery and peeled and finely chopped garlic to a pot on a high heat. Stir regularly for a few minutes until the onions start to soften. If things start to stick to the side of the pot, add a splash of water. 

Add the chopped mushrooms and peeled and chopped carrots. Turn the heat down a little and continue to stir regularly for another 2-3 minutes. The mushrooms should start to release some water, but add a splash to the pan if things start to stick. 

Prepare the vegetable stock with boiling water, and add to the pot. Add the peeled and chopped potatoes to the pot, along with the drained cannellini beans. 

Strip the kale away from any tough stems and chop roughly. Add to the pot (not including the stems)

Add the tomato puree and vinegar to the pot along with the thyme, bay leaves, and rosemary. 

Bring the pot to a boil and then turn down to a gentle simmer for around 20 – 25 minutes until the potatoes are fully cooked and you can stick a fork through them without any resistance. 

Stir in the chopped parsley reserving a few leaves for garnish if you wish. 

Serve in bowls and season with a little salt and pepper if desired.