This spinach with mushrooms recipe is made delicious with the addition of garlic, fresh ginger and chili. It's quick and is a tasty way to get your daily greens.
Green leafy vegetables are some of the most healthy foods we can eat. They are full of vitamins and minerals and antioxidants. Spinach may help to protect our eye health and cognitive health into old age. It is thought to be cancer protective and has been associated with lowering blood pressure.
Spinach is also low in calories, and high in protein. Around half of the calories in spinach are made up of protein. You can see more about the health benefits of spinach here.
If you fry spinach in oil or mix it with cream to make a creamy spinach recipe, you are multiplying the calories multiple times over. This dish is prepared using a dry pan and just adding the spinach, mushrooms, ginger, garlic and chili. That's it. There are no added oils. So it's very low in calories.
You simply add all of the ingredients to a dry pan over the hob and turn up to a medium/high heat. When you start the dish the spinach will be piled quite high on the pan, however it will wilt down to a small fraction of the original volume. If you move the spinach around the pan to prevent sticking, it should not be necessary to add water at the beginning. Then the mushrooms and spinach will begin to release water as they reduce.
This dish is a tasty way of getting in your daily dose of greens. The garlic and fresh ginger provide a lovely overall flavour to the spinach and mushrooms with the fresh chili providing an additional spicy kick.
This works great as a side dish to most main meals.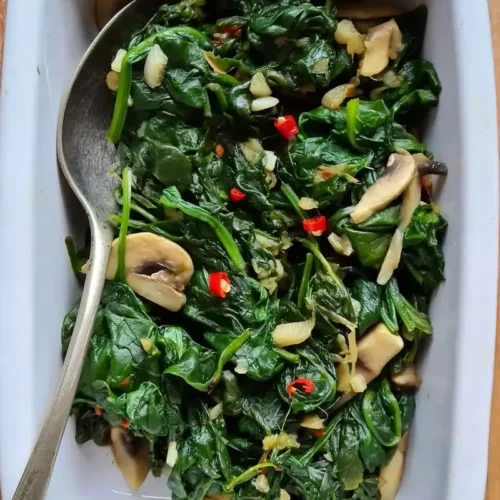 Spinach with Mushrooms
Spinach and mushrooms made with fresh garlic, ginger and chili. A quick, healthy and tasty way to get your daily dose of greens. 
Ingredients
200

g

fresh baby spinach leaves

80

g

of chestnut mushrooms

or other variety of choice

2

cloves

of garlic

1/2

thumb sized piece of ginger

1

fresh chili
Instructions
Wash and drain the spinach if needed, and add to the pan. 

Slice the mushrooms and add to the pan along with the peeled and finely chopped garlic. 

Peel ginger and grate into the pan. Add finely chopped chili the pan (remove seeds first for less heat, keep for extra heat)

Put the pan on the hob on a medium/high heat and move the spinach around regularly to cook evenly and prevent sticking. 

Cook for around 7-10 minutes until all of the spinach is wilted. 

Remove from heat and serve. 
Nutrition
Calories:
38
kcal
Carbohydrates:
7
g
Protein:
4
g
Fat:
0.5
g
Saturated Fat:
0.1
g
Polyunsaturated Fat:
0.2
g
Monounsaturated Fat:
0.01
g
Sodium:
82
mg
Potassium:
756
mg
Fiber:
3
g
Sugar:
1
g
Vitamin A:
9377
IU
Vitamin C:
29
mg
Calcium:
112
mg
Iron:
3
mg