This is an easy chia pudding recipe made with berries and oat milk. It is flavoured with a little cinnamon and vanilla and sweetened with maple syrup A wonderful overnight breakfast recipe.
An Overnight Breakfast Recipe
The chia seeds take some time to absorb the oat milk and form a gel like pudding consistency so this recipe works really nicely as an overnight breakfast recipe that you make the night before and leave in the fridge.
You then have a ready to go breakfast in the morning. This can also be a dessert recipe that you make ahead of time.
There are so many options for chia pudding recipes out there. I am quite new to trying them myself and wanted to start with a relatively simple one. I like to try a basic recipe before branching out into more experimental versions.
Ingredients:
Chia seeds
Oat milk – you can also try different milk varieties. I like the natural sweetness of oat milk.
Cinnamon
Maple syrup – I like the flavour of maple syrup but you can use a variety of different liquid sweeteners
Vanilla essence – this is for a hint of vanilla but can easily be left out if you wish
Toppings – Lots of options such as berries, seeds, nuts and dried fruits
How to Make the chia pudding with berries:
The first step is to mix the chia seeds and the oat milk together. In this recipe we also mix the flavouring ingredients of the cinnamon, maple syrup and vanilla essence.
You mix everything together well in a jug and then leave for a few hours in the fridge to set.
Once you've allowed around 4 hours for the chia pudding to set (or longer if you're making an overnight breakfast), the chia seeds will have formed a gel like consistency with the oat milk, and the pudding will e ready to serve.
This recipe makes 3 generous portions so you then pour the mixture from the jug into 3 separate glasses.
The oat milk chia pudding is now ready to eat and all that is left to do if for you to add your favourite toppings before serving.
Chia Pudding Toppings: Berries Coconut and Seeds
For this version of chia pudding I used some blueberries, strawberries, desiccated coconut and a sprinkle of mixed seeds. This makes a healthy breakfast, however the options are endless.
You can mix in some cocoa powder for a chocolate version or some fruit compote, or jam. For toppings you also have loads of options such as berries, chopped bananas, dried fruits, various seeds, nuts, or granola.
Chia seeds
There is evidence that chia seeds have been eaten since ancient times by the Aztecs. They are grown commercially throughout South America.
Chia seeds are considered a novel food in the Europe as there is not a significant history of consumption of chia seeds within the region.
You are not likely to unearth an old picture of your relations enjoying a chia pudding somewhere in Europe in the 1990s or before.
They have become very popular as a food in recent years, being used in smoothies, spread on breakfast cereal and of course, to make chia puddings. I use either ground chia seeds or ground flax seeds in my peanut butter and oat smoothie recipe to give it a nutrient boost.
Nutrition benefits of chia seeds
Chia seeds are very high in fibre, especially soluble fibre. High fibre foods help you feel full without consuming excess calories. It is also high in omega 3 fatty acids, antioxidants and minerals. You can find out more about the health benefits of chia seeds in this WebMD article on the benefits of chia seeds.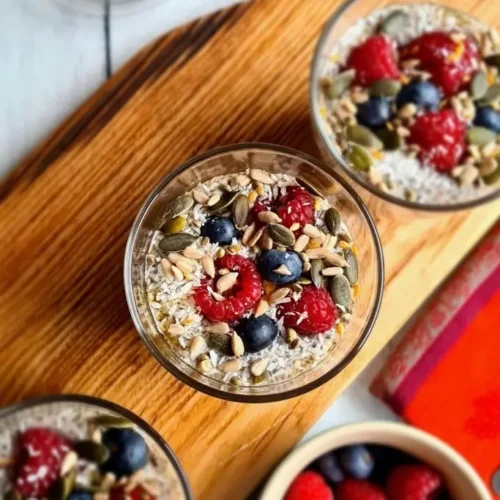 Easy chia pudding with berries
An easy overnight oat milk chia pudding recipe. Topped with berries, coconut and mixed seeds. 
Ingredients
90

g

chia seeds

(1 cup)

500

ml

oat milk

(2 cups)

1/2

tsp

cinnamon

1

tsp

vanilla essence

2

tbsp

maple syrup
Toppings:
Raspberries

Blueberries

Shredded coconut

Mixed seeds
Instructions
Put the oat milk, chia seeds, cinnamon, vanilla and maple syrup into a bowl

Mix well with a fork or hand whisk and leave in the fridge to set for 4 hours, or overnight. 

Pour the mixture into separate glasses and serve with your toppings of choice
Notes
Nutritional values are calculated without toppings
Nutrition
Calories:
277
kcal
Carbohydrates:
39
g
Protein:
8
g
Fat:
11
g
Saturated Fat:
1
g
Polyunsaturated Fat:
7
g
Monounsaturated Fat:
1
g
Trans Fat:
0.04
g
Sodium:
86
mg
Potassium:
239
mg
Fiber:
12
g
Sugar:
21
g
Vitamin A:
364
IU
Vitamin C:
0.5
mg
Calcium:
450
mg
Iron:
4
mg