Rice pudding was something I used to have as a child, made with dairy milk. This oat milk rice pudding is dairy free, and is a real treat.
Oat milk has a natural sweetness, even without added sugars. I recommend using a barista version of oat milk, for a creamier overall rice pudding.
Some rice pudding recipes use cream and vegan versions sometimes use coconut milk. These can be really good, but they are also higher in fat. This oat milk rice pudding version is lighter in calories than a lot of versions, and is still a real treat.
Since oat milk has a natural sweetness, I don't think you need to add too much more. For this recipe, I used 2 tablespoons of maple syrup for the entire recipe, and I found that is enough as a sweet dessert. You can try it without any added sweetener if you wish and then add to individual portions to see different preferences.
Oat milk rice pudding ingredients:
Pudding or risotto rice
Oat milk
Cinnamon
Nutmeg
Maple syrup
A banana
Berry compote ingredients:
Frozen mixed berries
An orange
Maple syrup
How to make the oat milk rice pudding
This is a nice easy dish to make. You start by adding the rice and the oat milk to a pot along with the cinnamon, nutmeg and maple syrup. Bring the pot to a boil, and then turn down to a gentle simmer.
Cook on a gentle simmer for around 30 to 35 minutes. Ensure to stir every few minutes. You can taste along the way to see if the rice pudding is at the desired texture but I find it needs at least 30 minutes to reach a nice soft consistency.
Once the pudding is ready, you can remove from the heat and serve in bowls along with some berry compote, slices of banana and a little zest from the orange. (if you have used a fresh orange and have the skin available)
How to make the berry compote
To make the berry compote you add the frozen berries to a pot along with around 4 tbsp of freshly squeezed orange juice. You can get this from juicing an orange yourself, or using some fresh orange juice from the carton.
Add 2 tbsp of maple syrup and heat everything gently for around 10 minutes, until the berries are fully thawed and warm throughout. You can also bash the berries a bit with a wooden spoon to release some more juice, without making the making the mixture into a paste like consistency.
Tips and Variations
Different milks – I'm a big fan of oat milk but this recipe works really well with almond milk as another non-dairy option. It also works well with dairy milk as a non-vegan option.
Rice varieties – I used carnaroli rice for this recipe, however you can use other types of risotto rice such as arborio. Longer grain rices such as basmati and jasmine also work and are used in many rice pudding recipes. Some recipes use brown rice although I have not tried this myself.
Toppings – If you don't wish to make a berry compote, you can use some jam, fresh berries or other toppings that you like instead. Or you can eat the rice pudding without toppings, it's still really good.
Add raisins – many rice pudding recipes include raisins, so if you like raisins, feel free to add them to the pot.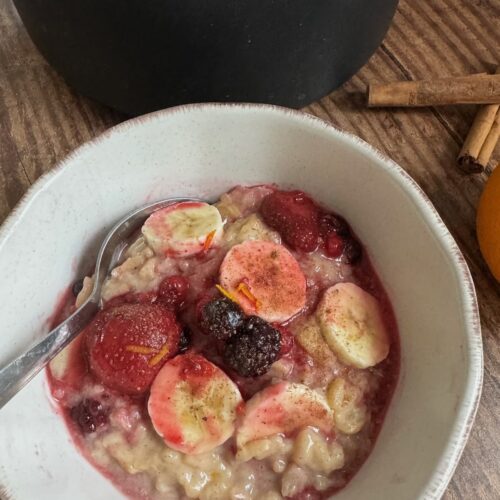 Oat Milk Rice Pudding with Berry Compote
A wonderful easy to make rice pudding, made with oat milk and served with berry compote.
Ingredients
Oat Milk Rice Pudding
1

litre

oat milk (barista)

(4 cups)

150

g

risotto rice

2

tbsp

maple syrup

1/2

tsp

cinnamon

(ground)

1/4

tsp

nutmeg

(ground)

1

tsp

vanilla essence

1

banana
Berry compote
200

g

frozen mixed berries

4

tbsp

orange juice

(freshly squeezed)

2

tbsp

maple syrup
Instructions
To make the oat milk rice pudding
Add the rice to a pot along with the oat milk, cinnamon, nutmeg, vanilla essence and maple syrup

Bring to the boil, then turn down to a very gentle simmer. Cook for around 30-35 minutes, stirring regularly under the rice has reached a nice soft consistency

Remove from the heat. Serve in bowls and top with berry compote and a few slices of banana.
To make the berry compote
Add the frozen berries to a pot along with the orange juice and maple syrup

Cook on a gentle heat for around 10 minutes until the berries are fully thawed and heated through. Squash the berries a bit so they release some juice but without making the compote into too much of a paste.

Once ready remove from the heat and use to top the rice pudding