This spiced carrot and lentil soup fits the bill for all the descriptive words for a good soup. It's comforting, warming, tasty and satisfying. It's also higher in protein than most soups due to the red lentils and is a low calorie meal option.
A Higher Protein Soup
A lot of vegetable based soups are low in calories and also relatively low in protein. Although some vegetables are high in protein as a percentage of calories (eg broccoli contains around a third of its calories as protein), since they also tend to be low in calories, the overall protein content can still be quite low.
Beans and lentils are two types of plant foods that are good sources of protein, and are more calorie dense than vegetables. This soup contains around 20% of its calories as protein. A regular sized bowl of soup contains 200 calories and 10g of protein.
Protein can help to increase the satiety of a meal. This soup can be a a satisfying meal as part of a low calorie diet. Even doubling the portion size of this soup makes it still just a 400 calorie dish.
Ingredients:
Onion
Garlic
Fresh ginger
Carrots
Red lentils
Chilli flakes
Tomato Puree
Ground cumin
Garam masala
Vegetable stock
Coriander (cilantro) leaves
How to Make this Spiced Carrot & Lentil Soup
This soup is really easy to make and only uses one pot. If you have a hand blender it also makes the process cleaner, although a normal blender will also do the trick.
First you got a big pot on the hob with a splash of oil Then sauté some onions and garlic for a few minutes and then add the dried spices. Give it a stir and fry for another minute or so.
Then you add the rest of the ingredients to the pot along with the stock that you prepare with 2 litres (4 cups) of boiling water.
You bring the soup to a boil then turn down to a gentle simmer, and cover with a lid to maintain more heat. You cook the soup for around 15 to 20 minutes until the carrots are fairly soft. I usually take the lid off once or twice during the cooking process to give everything a stir.
Then you take a hand blender and blend the soup until smooth.
Serving Suggestions:
This soup is delicious served with some fresh chopped coriander and a little cream or natural yoghurt. The version I made is served with a little oat cream.
Tips and Variations:
If you wish to have a more chunky variety of this soup, you can leave out the blending process
For an even higher protein content, you can add some cooked beans or chickpeas and stir though to heat up.
For a kid friendly non-spiced version, I just leave out the chilli and add it to my bowl when serving.
Other Soups to Try
if you are on a soup making mission, then I recommend a few other healthy and tasty soups to try:
For a chunky that is also relatively high in protein with chickpeas and lentils you must try my Easy Chickpea and Red Lentil Soup. This was a lunch staple of mine for many weeks.
If you are a fan of smooth soups, I recommend my Leek and Potato Soup and my Sweet Potato and Butternut Squash Soup.
For another satisfying soup made with pasta, you can also try my Healthy Minestrone Soup.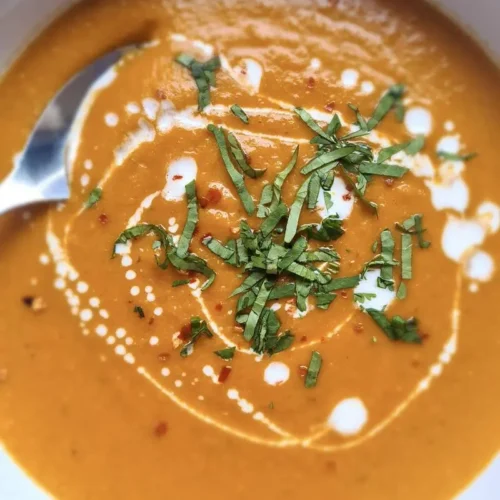 Spiced Carrot and Lentil Soup
Ingredients
2

small

onions

(peeled and chopped)

3

cloves

garlic

(peeled and chopped)

250

g

red lentils

(dried)

600

g

carrots

(peeled and chopped)

1

tbsp

fresh ginger

1

tbsp

garam masala

1

tsp

ground cumin

3

tbsp

tomato puree

1

tbsp

sunflower oil

250

ml

oat milk

2

litres

vegetable stock
Instructions
Add some oil to a big pot and place on the hob on a medium/high heat. Add the chopped onions and garlic and cook for a few minutes until the onions start to soften, stirring regularly.

Add the fresh grated ginger, garam masala and cumin. Stir in and cook for another minute or two.

Add the chopped carrots, milk and lentils. Prepare the vegetable stock and add to the pot. Stir everything together.

Bring everything to a boil and once things start to bubble, down to a medium heat. Cover with a lid and cook for another 20 minutes, stirring every few minutes.

Blend the soup to a smooth consistency using a hand blender.

Serve the soup along with some chilli flakes and chopped coriander (cilantro)

If you wish, you can also add some cream or natural yoghurt of choice for a more creamy texture
Nutrition
Calories:
201
kcal
Carbohydrates:
35
g
Protein:
10
g
Fat:
3
g
Saturated Fat:
0.3
g
Polyunsaturated Fat:
0.3
g
Monounsaturated Fat:
2
g
Sodium:
1065
mg
Potassium:
619
mg
Fiber:
12
g
Sugar:
10
g
Vitamin A:
13170
IU
Vitamin C:
8
mg
Calcium:
97
mg
Iron:
3
mg