The lentils along with the ground walnuts provide a lovely satisfying texture similar to a traditional bolognese, with some crunchiness from the carrots and celery.
Lentil Bolognese Sauce
You need more lentils in your life. They are high in nutrients and high in protein, and contain very little fat. They are also high in fibre, which helps to promote a healthy digestive system.
The type of soluble fibre in lentils may provide a good source of prebiotics (essentially food for our beneficial gut bacteria) Most people don't eat the recommended amount of fibre per day.
Lentils provide a satisfying texture as a replacement for meat and they work really well in this bolognese sauce.
Lentils are eaten more commonly in Indian and Middle Eastern cuisine, and can be a healthy addition to the diet.
The addition of ground walnuts really helps to finish this dish nicely. You can buy the walnuts whole, and then blitz them in a food processor to grind them up. They can also be bashed up with a pestle and mortar. The texture doesn't need to be completely smooth, and can contain some lumpy bits of walnuts too. If you don't have all of the herbs, that is fine, however the more the merrier. A tablespoon of oregano will do the trick if you're operating in a one herb (hopefully oregano) kitchen.
The ingredients to make this recipe are relatively inexpensive, for those on a tight budget and looking for something healthy to make. It makes approximately 6 portions and is a great recipe for batch cooking for next day lunches or for evenings when you don't want to cook. Some nut based Parmesan type spread (pictured below) also tastes great sprinkled on top.
How to Make It:
This recipe is relatively simple to make.
If you want to be efficient from a timing perspective, it's best to get the lentils cooking first. You first dissolve the stock cube in the boiling water and then add the stock cube. At least 3 times the volume of water per volume of lentils should be sufficient. In American terms this would be measured in cups, so 3 cups of water per 1 cup of lentils.
Since we are using 500g of lentils for this recipe, that translates to around 2.5 cups, so at least 7.5 cups of water. It doesn't matter if you use a little extra water as the lentils will be drained once cooked in any case. This is at least 750ml of water in metric terms.
You then cook the lentils for around 20 minutes. It's fine if they are still a little al denté, as they will cook further in the bolognese sauce. Once cooked, you drain and reserve any remaining cooking water. This can be added to the bolognese if it's a bit dry.
Then you take a bit pot and sauté the chopped onions in a little oil, adding the chopped garlic after about 5 minutes, once the onions start to soften.
After cooking the garlic for another minute or so, you add the chopped carrots and celery along with the herbs. You fry these in the pot for another two minutes or so stirring regularly. Frying the herbs and the veg for a few minutes before adding the additional liquid, helps to bring out some extra flavour from these ingredients.
You then add the rest of the ingredients, stir everything in well, bring to a boil, and then down to a gentle simmer for around 15 minutes. If you think the consistency of the lentil walnut bolognese sauce is a little thick, you can add some of the reserved lentil water, or just some regular water.
While the bolognese is cooking, you can cook the pasta according to the packet instructions.
Once everything is cooked, you place some spaghetti in a bowl and ladle on a scoop of the sauce.
If you have fresh parsley available, I recommend adding a little chopped fresh parsley to garnish. It adds a lovely fresh dimension to the overall flavour.
This recipe should serve 6 portions.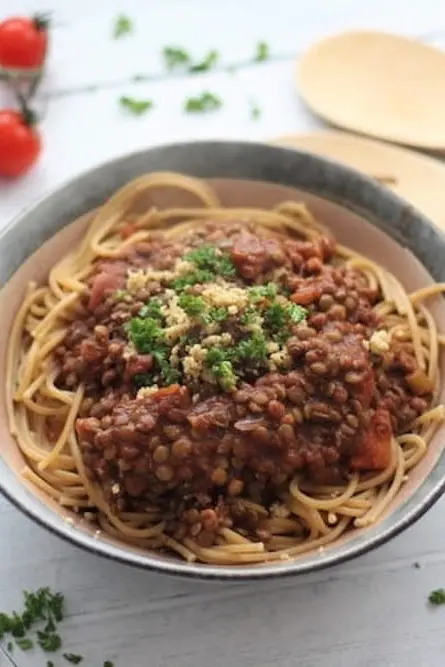 Lentil walnut bolognese with spaghetti
A delicious lentil walnut bolognese recipe served with spaghetti. A healthy plant based version of the traditional Italian dish. 
Ingredients
500

grams

of wholewheat spaghetti

300

grams

of dry green lentils

1

vegetable stock cube

2

onions

5

garlic cloves

2

carrots

2

celery sticks

1

400 grams tin of chopped tomatoes

1

tablespoon

of tomato puree

100

ml

of water

60

ml

of red wine vinegar

1

tbsp

of balsamic vinegar

1

tsp

of rosemary

1

tsp

of oregano

1

tsp

of thyme

2

bay leaves

50

g

of ground walnuts

salt and pepper

fresh parsley to serve

1

tbsp

vegetable oil
Instructions
Start by cooking the green lentils in a pot of boiling water according to the package instructions. Add the stock cube to the boiling water and dissolve before adding the lentils.

If you are using whole walnuts, blitz the walnuts in a food processor or bash them with a pestle and mortar until they are ground up. 

Add a tablespoon of oil to a pot, then add the chopped onions and cook for a few minutes until the onions start to soften. Add the chopped garlic to the pan and cook for another minute or two.

Add the chopped carrots and celery along with the herbs. Cook for anther 2 minutes, stirring everything regularly.

Add the chopped tomatoes to the pan and the tomato puree along with 100 ml of water

Add the red wine vinegar, balsamic vinegar and ground walnuts. 

Drain the lentils once they are cooked, but reserve the water to add to the bolognese sauce if needed.

Add the lentils to the pot and mix in the bolognese sauce. 

Add the salt and pepper to taste and bring it to simmer and cook for 15 minutes

While simmering, cook the pasta in boiling water following the instructions. 

When cooked, drain the spaghetti in a colander. 

Serve the bolognese sauce with the cooked spaghetti, along with a sprinkle of parsley to garnish. 
Nutrition
Calories:
585
kcal
Carbohydrates:
104
g
Protein:
28
g
Fat:
10
g
Saturated Fat:
1
g
Polyunsaturated Fat:
6
g
Monounsaturated Fat:
2
g
Trans Fat:
0.01
g
Sodium:
239
mg
Potassium:
969
mg
Fiber:
18
g
Sugar:
6
g
Vitamin A:
3521
IU
Vitamin C:
14
mg
Calcium:
112
mg
Iron:
8
mg