Often caramel squares are made with plenty of butter or oil, refined flour and sugar. This version is a healthier spin on the more traditional recipes, using less refined ingredients.
So more nutrients, and more fibre. And they taste awesome, better than the store version, in my opinion.
Ingredients:
These vegan caramel slices are relatively simple to make and don't require a lot of ingredients considering they are made up of three different layers. To make them you will need the following:
Peanut butter
Almonds (whole or ground)
Dates (ideally pitted so you don't have to remove the stones)
Desiccated coconut
Maple syrup
Dark chocolate
Oat milk (other plant-based milks will also work)
Salt
How to make these Vegan Caramel Slices
You will need a tray to make the caramel slices in and I like to use silicon. I find silicon very handy as its not stick. For this recipe I used an 8 inch x 8 inch (or 20cm x 20cm) silicon baking tray.
You will also need a suitable blender to blend all of the ingredients together.
Base Layer
To make the base layer you start by blitzing the almonds in a blender into a flour like consistency, although its fine to have some bigger pieces here and there. If you are using ground almonds then you can skip this step.
You then pour the almonds into a bowl and add the coconut and maple syrup and mix everything together.
Once everything is mixed together, you pour the base layer into the silicon tray and spread it out so it forms a smooth base layer that is an even level of thickness.
Caramel Layer
For the caramel layer you take take the pitted dates (you need to pt them first if they are not already pitted), peanut butter, oat milk and salt and place into a blender. You then blend everything to a smooth consistency. I find I need to stop the blender and scrape down the sides a few times before starting it again, but it depends on the blender you use.
Once the caramel layer is a consistent and smooth consistency, you spread it over the base layer and spread it out so its nice and even.
Chocolate Layer
For the chocolate layer you break the chocolate into pieces and place into a bowl along with the oat milk. You then heat some water in a pot on the hob and place the bowl on top of the water. This is the method used to melt the chocolate.
Ideally the bowl should be big enough to sit into the bowl just touching the water, with the sides of the bowl sitting on the edge of the pot.
Once the chocolate is melted, you scoop it out over the caramel layer, spread it out evenly with a spatula and leave it to set.
Leave to Set
After all the layers have been added, you then put the tray into the fridge to set for around 3 hours. Once set you then cut into slices, according to your own tastes. I usually cut a recipe of this size into 8 generous sized vegan caramel slices, 4 wide X 2 Long.
The Bottom Line
These vegan caramel slices don't take too long to make once you have all of the ingredients. You do need to let them set so its best to pan ahead and make them a few hours in advance of when you want to eat them.
They are a lovely recipe to make if you are having friends over for coffee.
For other healthier sweet treats, I also recommend trying my oat banana bites and my peanut butter oat cookies.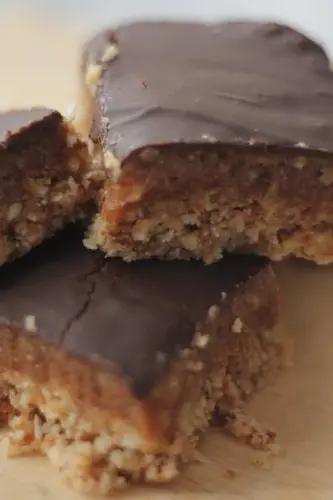 Vegan Caramel Slices
Ingredients
Base Layer
140

g

almonds

75

g

shredded coconut

5

tbsp

of maple syrup
Caramel Layer
150

g

pitted dates

2

tbsp

peanut butter

80

ml

oat milk

1/2

tsp

salt
Chocolate Layer
125

g

dark chocolate

80

ml

oat milk
Instructions
For the base layer:
Put the almonds in a blender and blitz to crumbs

Add the shredded coconut and maple syrup and blitz again for a few seconds until everything is mixed

The base is now ready to be transferred to a tray. Pour the base mixture into the tray and compact with the back of a spatula so its flat and even (we used a 20 cm/ 20 cm silicon tray)
For the caramel layer:
Place all the ingredients for the caramel into a blender and blitz to a smooth puree

Transfer the mixture to the tray and spread it equally over the base.
For the chocolate layer:
Break up the chocolate into small pieces in a bowl with the oat milk

Put the bowl on top of a small pot of boiling water on a gentle simmer. (the bowl should cover all of the pot so that no steam gets into the bowl)

Stir regularly until melted

Spread evenly over the caramel layer

Refrigerate for at least 3 hours then enjoy
Notes
We recommend using a tray approximately 20cm x 20cm (8 inches x 8 inch) and at least 4cm (1.5 inches) deep
Nutrition
Calories:
181
kcal
Carbohydrates:
20
g
Protein:
3
g
Fat:
11
g
Saturated Fat:
4
g
Polyunsaturated Fat:
1
g
Monounsaturated Fat:
4
g
Trans Fat:
0.004
g
Cholesterol:
0.2
mg
Sodium:
101
mg
Potassium:
231
mg
Fiber:
3
g
Sugar:
15
g
Vitamin A:
38
IU
Vitamin C:
0.03
mg
Calcium:
58
mg
Iron:
2
mg