A Quick and Easy Meat Free Curry
I think that one of the secrets to preparing your own home cooked meals is having some simple recipes to turn to when you want something quick and simple.
This is a simple curry that is ready in 20 minutes. The coconut milk gives it a lovely creamy texture and there is lots of flavour from the spices. The coriander (cilantro) leaves and lime juice also adds a lovely fresh flavour.
Then is also a great meat free option for those wishing to add more meat free meals to their weekly dinner options.
Ingredients:
Onion
Garlic
Butter beans
Chopped tomatoes
1 can of light coconut milk
Fresh grated ginger
1 red pepper
Lime
Garam masala
Cumin
Coriander (dried)
Turmeric
Fresh coriander (cilantro) leaves
Chilli flakes
How to Make the Butter Bean Curry?
This curry is very simple to make:
First you put a pot on the hob, turn up the heat, and add a little oil. Then you add the chopped onions and garlic and fry for around 4 minutes until the onions start to get soft and brown slightly.
Then you add the spices and stir into the onion and cook for another minute or so.
Then in goes the fresh grated ginger and stir in.
You can then add the chopped tomatoes, coconut milk and the chopped peppers.
Drain the butter beans and add them too.
Stir everything in, bring to a boil, and then down to a gentle simmer for around 10 minutes.
Then the curry is ready to serve. To serve, add some curry to a plate and add a squeeze of lime juice, some fresh chopped coriander and some chilli flakes (as desired).
I recommend serving with rice although the curry can also be served with naan bread, or eaten on its own.
Tips and Variations
This recipe also works will with chickpeas or cannellini beans if you wish to change up the beans according to your own tastes.
If you don't like too much spice you may be satisfied with the spice from the curry powder, without adding any extra chilli. This also depends on how "hot" the curry powder is that you are using.
I like using chilli flakes for recipes but chilli powder also works perfectly well
You can also mix up the veg according to what you like and have available. You could add more for extra veggies or substitute in/out as you wish. Carrots, broccoli, cauliflower and peas all work well.
To increase the nutrients in this curry you can also add some fresh chopped spinach. This can be added 5 minutes before since they only take a few minutes to wilt. You can also add a few cubes of frozen spinach to dissolve in the pot.
The fresh coriander (cilantro) leaves and a squeeze of lime juice finish off the curry really nicely but it still works great if you don't have either or both available.
Curry Crazy
If you want to further explore some curry variations then I have some other curry recipes that I recommend trying out.
For ultimate fast food, my 10 minute chickpea curry is a perfect option. For another creamy curry, you can try my creamy lentil curry.
For a low fat curry option I also recommend my Low Calorie Spinach Chickpea Potato Curry.
If you like the flavour of a korma you can also try out my Vegetable Pasanda that is similar in flavour to a korma.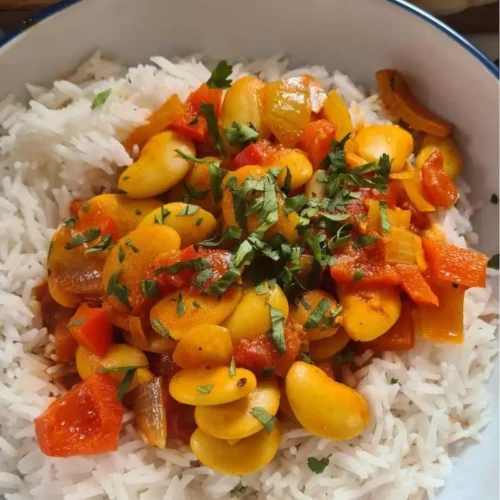 Butter Bean Curry
A creamy protein rich meat free curry with lots of fresh flavour that's ready in 20 minutes.
Ingredients
2

medium

onions

(chopped)

2

cloves

garlic

(finely chopped)

1

red bell pepper

(chopped)

2

cans

butter beans

1

can

chopped tomatoes

1

can

light coconut milk

1

tbsp

ginger

(grated)

1

tbsp

garam masala

1

tsp

cumin

1

tsp

coriander

1

tsp

turmeric

1/2

tsp

chilli flakes

1/2

tsp

salt

1

lime

1

bunch

coriander (cilantro) leaves

70

g

basmati rice

1

tbsp

sunflower oil
Instructions
Start by heating some water for the rice

Add a tablespoon of oil to a large pan on the hob. Turn to a medium/high heat and add the onions and garlic.

Cook for about 4 minutes stirring regularly until the onion gets soft and translucent.

Add the spices, stir in and cook for another minute.

Add the grated ginger, chopped tomatoes and coconut milk and salt. Drain the water from the butter beans and add them too.

Stir everything well, then bring to a boil and turn down to a gentle simmer.

Cook for around 10 minutes stirring regularly.

While the curry is simmering, get the rice on and cook according to the packet instructions

Once everything is ready, serve the curry along with some rice.

Add some chopped coriander (cilantro) leaves and a squeeze of juice from the lime.
Notes
If using brown rice you will need to get the rice cooking first in order for everything to be ready at a similar time
This nutrition values for this recipe are calculated based on a serving of 70g rice (dry weight) per person
Nutrition
Calories:
576
kcal
Carbohydrates:
100
g
Protein:
17
g
Fat:
12
g
Saturated Fat:
7
g
Polyunsaturated Fat:
1
g
Monounsaturated Fat:
3
g
Sodium:
534
mg
Potassium:
1115
mg
Fiber:
13
g
Sugar:
10
g
Vitamin A:
1142
IU
Vitamin C:
57
mg
Calcium:
106
mg
Iron:
6
mg