Soups and stews have long been a staple in various cuisines around the world. I think they are an under-rated meal option, since there are so many advantages to including more of these dishes in your diet. In this article I go through 7 of the best reasons to eat more soup (and stew) in your diet.
Soups May Help to Manage Your Weight and keep you fuller for longer
Soups are usually made with lots of vegetables and are low in calorie density. A study published in the journal Appetite found that consuming a low-calorie soup before lunch can lead to a natural reduction in calorie intake, about 20% fewer calories overall.
If you start your meal with a low calorie soup, you are leaving less room for the rest of the meal, which is likely to be more calorie rich than the soup. Leaving less room for the higher calorie dish can help to consume less calories overall.
As well as being a low calorie addition to a meal, soups can be a hearty meal all by themselves. Adding things like potatoes, sweet potatoes, beans and grains to soup can help to make them more filling and a satisfying main course all on their own.
Soup has plenty of fibre especially if made with plenty of vegetables, beans and whole grains. Fibre helps to keeping you feeling fuller for longer, slowing the digestion of the overall meal.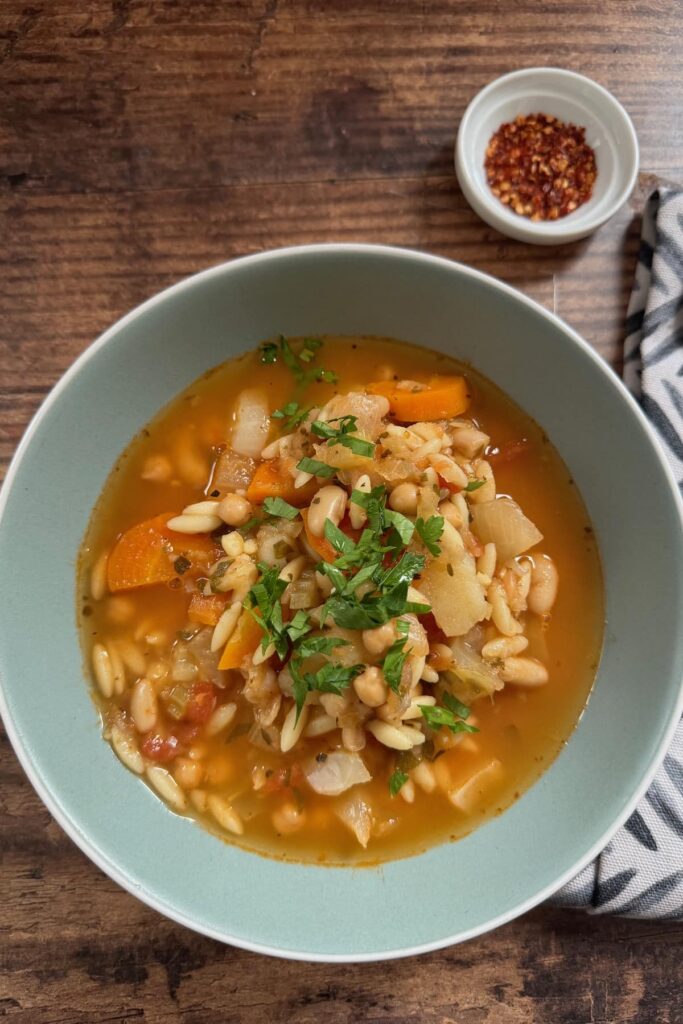 Soup is a great way to increase the nutrients in your diet
Soups are generally very nutritious and a great way of getting more vegetables into your diet. Most people struggle to eat the recommended daily amount of vegetables on a daily basis. Vegetables are not only rich in vitamins and minerals, but are also rich in other healthy nutrients such as fibre and antioxidants.
As well as getting more vegetables into the diets of adults, eating a bowl of soup is one way to also increase the amount of veggies that children eat. If your kids are fussy with eating their vegetables, sometimes blending them into a soup can be the solution to get them to eat their veggies.
This certainly works with my kids, who are fussy when it comes to eating certain vegetables, They will eat them happily when part of a soup.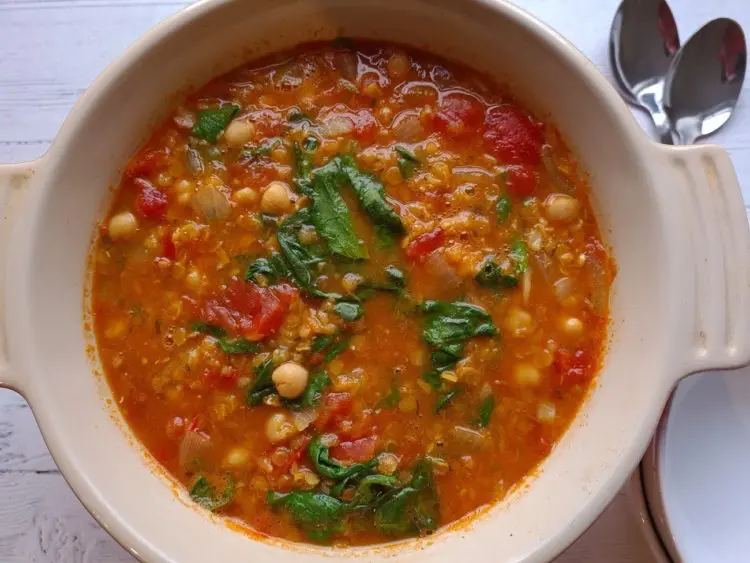 Soups can help you to stay hydrated
Soups are made with a broth or a stock containing mostly water. They are also rich in vegetables, which contain lots of water. So eating soups can hydrate you, due to their exceptionally high water content.
They can also be a great source of electrolytes, so can be good for replenishing these after a workout where you sweat a lot.
Soup can help to promote digestive health
Soup contain plenty of fibre that can help provide fuel for your beneficial gut microbes. Since they are high in fibre they can help promote digestive health by helping to keep things moving through the digestive system and eliminating toxins and other waste.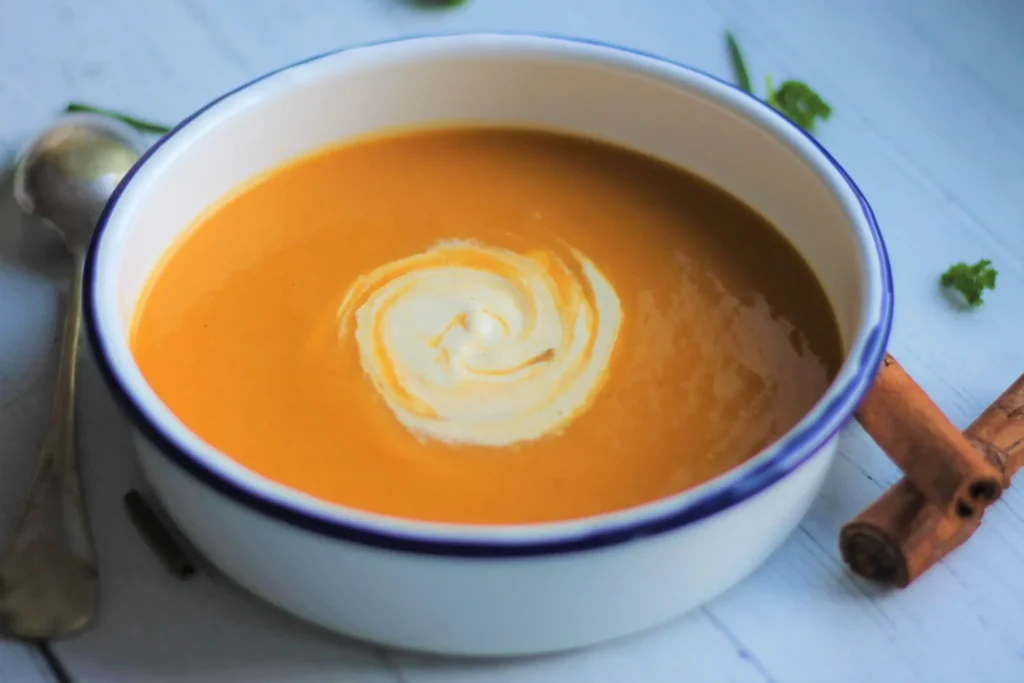 Soup is convenient and saves time overall
Cooking soup is not complicated and its relatively easy to makes homemade soup that you can eat everyday. Most can be made as one-pot recipes. Although there is usually some initial chopping and preparation, most soups can then be left to cook slowly, without too much active cooking time.
You can make a big batch of soup, freeze extra portions or just keep them in the fridge. You then have a healthy meal ready to go for days to come that you just need to re-heat.
Soup is versatile
You can modify most soup recipes based on what you have available. You can often substitute certain fresh herbs for others, or use dry herbs if you don't have fresh. Often vegetables, beans and grains can be swapped depending on what is in season or what is in your fridge or pantry.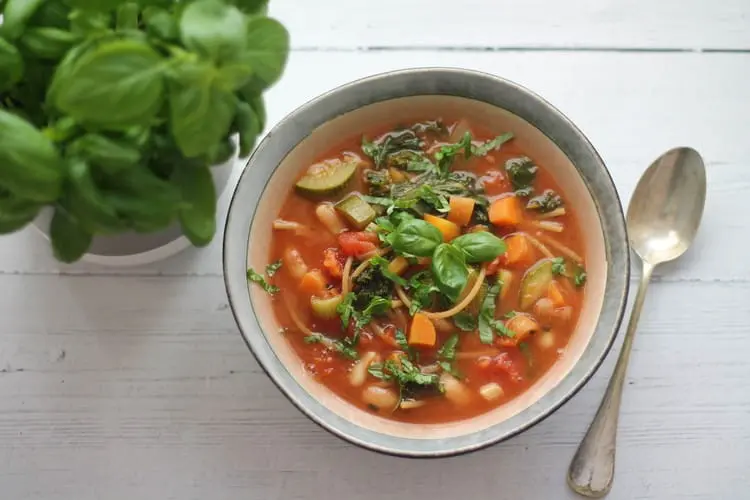 Soup is economical
Soup can be made very cheaply helping to save you money. It can be made from cheap ingredients such as vegetables, potatoes and beans and you can make a big pot that you can eat over several meals.
Soup is delicious
There is a type of soup to suit everyone. You may like blended soups or prefer chunky soups and stews. Your favourite soup might be vegetable soup, or chicken soup, tomato soup or mushroom soup or maybe a thai curry flavoured noodle soup. There is a type of soup for everyone to love.
It can be a comfort food that warms you up during the winter months on a chilly night or warms you up with chilli spice.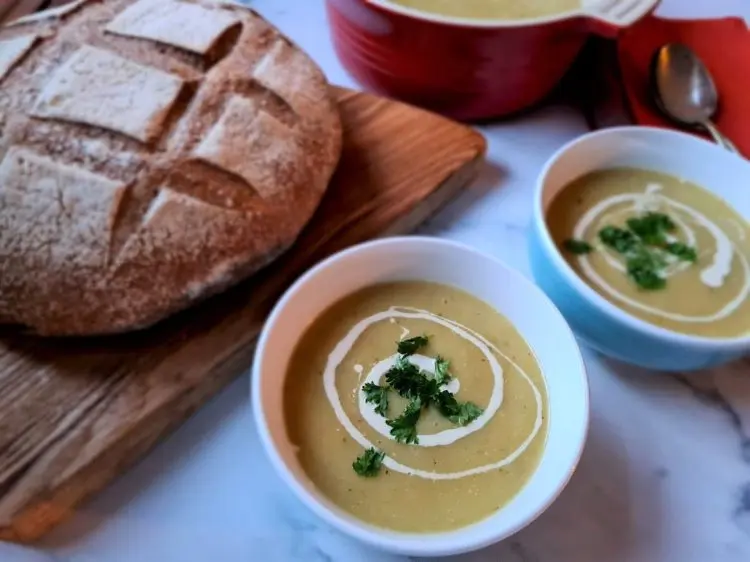 Awesome Healthy Soup Recipes to Try
If you love soup then there are plenty of great reasons to eat soup every day. It's easy to make, it's healthy food choice, it's inexpensive and convenient and you can choose your favourite recipes and adapt them to your own tastes. For me, I like spice and like a add some black pepper and/or chilli flakes to most soups. 
Below are some of my favourite soups and stew recipes to try:
Blue Zones Sardinian Minestrone
Sweet potato and butternut squash soup
Leek and Potato Soup (Low Calorie)