This stew is flavoured with herbs to create a lovely earthy flavour with some smoked paprika to add a little smoky flavour. It's got plenty of added healthy vegetables and flavoursome herbs. You can experiment with various herbs based on what you have available. For this recipe I have gone with oregano, thyme and rosemary. I have used dried versions of these, however fresh versions will also work nicely. I love to add bay leaves to this type of recipe, adding a warm almost mint like flavour to the overall flavour profile.
You can also mix up the veggies based on what you have available.
A lentil potato stew that's low in calories
Stews can be a great way to eat satisfying meals while not consuming a lot of calories. This stew is made with plenty of vegetables, which are generally very low from a calorie density perspective. You can fill up on a huge bowl of this lentil vegetable stew and feel satisfied, yet still only be eating around 330 calories.
This is also a perfect one pot meal for batch cooking. An investment of around 40 minutes in the kitchen will provide three dinners (or lunches) for 2 people. Breaking this down, the kitchen time is around 5 minutes per portion, not a bad investment for a healthy meal. For another hearty and tasty stew recipe that is low in calories, you can also check out my hearty stew with kale and potatoes.
A high protein stew
When skipping meat, some people are concerned about getting adequate protein in the diet. The stars of the plant kingdom from a protein perspective are legumes. Many legumes contain around 25 to 30% of their calories in the form of protein, although this varies depending on the legumes. Lentils are a type of legume that are high in protein and green lentils contain nearly 30% of their calories as protein.
Plant based protein sources may be preferable over animal based sources, since they often come packed with fibre and phytonutrients without some of the less desirable additions to some animal based sources of protein such as saturated fat and cholesterol. This Cleveland Clinic Article looks at other good plant based protein sources.
This lentil vegetable stew is made with nutritious kale. Green leaves while low in overall calories contain a large proportion of their calories in the form of protein. You can also substitute spinach leaves in place of kale.
Recipe Variations
Change up the leaves – you can use other leaves instead of kale such as spinach leaves or chopped swiss chard or collard greens
Sweet potatoes can be used instead of potatoes for a different spin on the recipe or even a combination of both
Mushrooms – this recipe uses the regular button variety but if you have some more exotic variations on hand, this would work very nicely
Spice it up – you can add some finely sliced fresh chili to add a bit of an overall kick to the stew
Different veggies – you can swap in different veggies such as courgette (zucchini), different coloured peppers, broccoli or frozen peas
To make this recipe gluten free use a wheat free soy sauce or tamari (just check the label to be sure)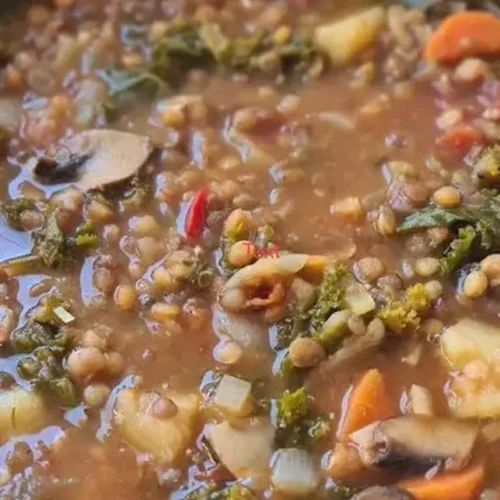 Easy Lentil Potato Stew
An easy lentil potato stew that is full of flavour. This recipe is hearty and satisfying, light on calories with plenty of protein per portion
Ingredients
1,500

ml

litre vegetable stock

(6 cups)

1

tbsp

vegetable oil

1

large

onion

peeled and chopped

3

cloves

garlic

peeled and finely chopped

2

sticks

celery

chopped

240

g

chopped carrots

peeled

600

g

potatoes

peeled and cubed

250

g

dried green lentils

1

red pepper

deseeded and chopped

120

g

chopped mushrooms

100

g

kale

stripped from stalks and chopped

2

bay leaves

1

tsp

thyme

1/2

tsp

oregano

1/2

tsp

rosemary

2

tsp

smoked paprika

2

tbsp

soy sauce

or tamari (for gluten free use a GF variety)
Instructions
In a large casserole pot, heat a tablespoon of oil over the hob and add the carrots, celery and onions. Cook for 3-4 minutes stirring regularly so nothing sticks to the pot

Add the garlic, stirring and cooking for another minute or so

Add the chopped tomatoes and 1 litre of vegetable stock along with another 500ml of water

Add the potatoes, lentils, pepper and mushrooms to the pot

Add the bay leaves, dried herbs, smoked paprika and soya sauce/tamari

Stir everything in and bring to a boil. Bring down to a gentle simmer, cover with the lid, and cook for around 25 minutes, stirring regularly

Add the chopped kale and cover again with the lid in order for the kale to wilt faster. Cook for another 3-4 minutes until the kale has wilted and then the stew is ready to serve

Serve in large bowls, with a little slat to taste and some fresh black pepper if desired
Nutrition
Serving:
1
bowl
Calories:
311
kcal
Carbohydrates:
57
g
Protein:
15
g
Fat:
3
g
Saturated Fat:
1
g
Polyunsaturated Fat:
2
g
Monounsaturated Fat:
1
g
Trans Fat:
0.01
g
Sodium:
1388
mg
Potassium:
1217
mg
Fiber:
19
g
Sugar:
9
g
Vitamin A:
9925
IU
Vitamin C:
68
mg
Calcium:
114
mg
Iron:
5
mg