Jump to Recipe
A good stir fry sauce really makes a stir fry. The sauce for this stir fry is a peanut sauce with a tangy zest of fresh lime, slightly sweetened with some liquid sweetener. Then we add the wonderful flavour of fresh ginger. The combination of fresh lime and fresh ginger is a winning combination in my opinion, with the refreshing zest of the lime and the warming kick of ginger.
In this recipe, we use cornstarch to add a little thickness to the sauce. Arrowroot powder also works will in place of cornstarch, but you may need to visit your local health food shop to find it. You can also leave out the thickener if you wish, it still tastes just as good.
A Filling Low Calorie Meal
There are around 600g of vegetables in this recipe, so 300g per portion. That's more veg per portion than a lot of people eat in a day. Vegetables are mostly very low in calories but have lots of water and fibre so can help to fill you up without adding a lot of calories to the meal. This stir fry comes in at around 400 calories per portion.
Tempeh for Plant Protein
Although many vegetables are relatively high in protein from a percentage of calories (eg broccoli contains approx ⅓ of calories from protein), they also tend to be relatively low in overall calories. Adding tempeh adds a great boost of plant based protein. Adding 200g of tempeh adds around 19g of additional protein per portion. I'm a big fan of tempeh and recommend trying it if you haven't already. It used to require a trip to a health food shop but is now more and more readily available in supermarkets. You can of course leave out the tempeh if you wish, and just add a few extra veg to the stir fry.
Add Some Spice
If you like a bit of heat in your food, a teaspoon of dried chili powder or some fresh chillies will add another dimension to this recipe.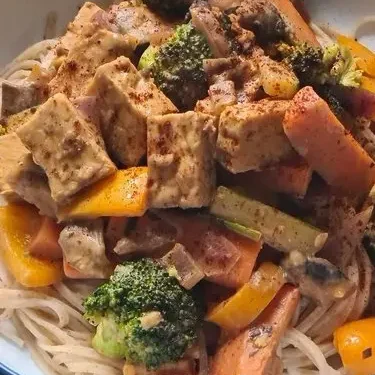 Quick Tempeh and Vegetable Stir Fry with Peanut and Lime Sauce
A stir fry full of plant protein with vegetables and a zesty peanut sauce with fresh lime and ginger
Ingredients
Peanut sauce
2

tbsp

peanut butter

1

lime

juice of

3

tbsp

tamari or soya sauce

1

tbsp

liquid sweetener

such as maple syrup

1

tsp

corn starch
Stir Fry
120g

broccoli

(chopped)

120g

carrots

(peeled and chopped)

1

red pepper

(deseeded and chopped)

50g

mushrooms

(chopped)

50g

beansprouts

80

g

mangetout

1

medium onion

(chopped)

1

thumb sized piece of ginger

(peeled)

2

garlic cloves

(peeled and chopped)

200g

pack of Tempeh

1

tbsp

oil

160

g

brown rice noodles
Instructions
Zesty Peanut and Lime Sauce
Add the peanut butter, lime juice, tamari/soya sauce, maple syrup to a pot on medium heat along with around 150ml of water. Stir until the peanut butter has been dissolved into a smooth texture.

Make a slurry with the cornstarch by mixing with a tbsp of col water and stirring until smooth. Add this to the sauce.

Turn up the heat and once the sauce starts to bubble, bring down to a gentle simmer for one minute stirring regularly. Remove from heat.
Stir Fry
Cut the tempeh into small cubes and add to the peanut sauce in order to coat the cubes with sauce.

Add the oil to a wok on a high heat and add the tempeh cubes. Fry for 2-3 minutes until slightly browned turning them over regularly.

Add the chopped onion and garlic and cook for another few minutes stirring regularly

Once the onions start to soften, add the rest of the chopped vegetables and grate in the ginger. Cook for another 5 minutes. Keep stirring regularly to avoid any of the vegetables getting burnt.

Add the rest of the peanut sauce and mix the vegetables around so they get some sauce coating

Cook on a medium heat for another 5 minutes ensuring to stir regularly so everything cooks evenly

Serve with cooked noodles or rice
Nutrition
Calories:
804
kcal
Carbohydrates:
113
g
Protein:
37
g
Fat:
28
g
Saturated Fat:
5
g
Polyunsaturated Fat:
8
g
Monounsaturated Fat:
12
g
Trans Fat:
0.03
g
Sodium:
1664
mg
Potassium:
1389
mg
Fiber:
15
g
Sugar:
21
g
Vitamin A:
10896
IU
Vitamin C:
149
mg
Calcium:
232
mg
Iron:
6
mg