This is a one pot recipe and is perfect for a quick dinner or lunch. It makes six generous bowls of stew so is also a great recipe for keeping some extra portions in the fridge for a quick meal that just needs reheating.
Ingredients:
Butterbeans (2 cans)
2 Peppers
2 red onions
2 cloves of garlic
1 teaspoon of smoked paprika
1 teaspoon of oregano
1 teaspoon of cumin
1 bunch of fresh parsley
Chopped tomatoes
Juice of one lemon
2 bay leaves
1/2 a teaspoon of salt
How to Make this Butter Bean Stew
This butter bean stew is a relatively quick and easy recipe to make and makes six good sized bowls of stew.
I recommend using a casserole dish (also called a Dutch oven) if you have one since they spread the heat well, but any big pot will work just fine.
You start by heating some oil in a pot on the hob and then adding some chopped onions and finely chopped garlic, stirring regularly to avoid burning.
Once the onions and garlic have been cooking for a few minutes and the onion starts to go soft and translucent you add the dried herbs and spices (smoked paprika, oregano, cumin) and chopped carrots and chopped carrots and peppers and stir everything together.
I usually peel the carrots and then cut into quarters lengthways and then slice.
You cook for another 2 minutes or so, giving everything a stir every 30 seconds or so, and then add the chopped tomatoes, drained butter beans, juice from one lemon, bay leaves and salt.
You the add around 2 cups (500ml of water). You can also make up a vegetable stock for this volume and add in place of the water for a little extra flavour.
You then bring everything to the boil, and turn down to a gentle simmer. You give everything a stir and then cover with the lid and cook for another 15 minutes or so, taking the lids of every few minutes to give a quick stir.
While the stew is cooking, you can finely chop your fresh parsley. Then add to the stew once its just about ready and stir in well.
The stew is then ready to serve.
You can add a little more chopped fresh parsley as a garnish if you wish and add salt and pepper to taste.
Tips and Adaptions
You can swap in other beans instead of butter beans such as cannellini beans
I like to add a really big bunch of parsley for an extra fresh flavour. The more parsley the better.
You can also swap in/out different vegetables or even add some potatoes or sweet potatoes.
A little spice in the form of some chopped fresh chilli or chilli flakes also works well if you like to add spice to your foods.
The Benefits of More Beans
Beans are a nutritious addition to your diet. They tend to be low in fat and high in protein. They are also high in fibre and also rich in vitamins and minerals.
Butter beans are also called lima beans and around 30% of the calories are made up of protein.
For more butter beans in your life you can also check out my Butter Bean Curry. If you want to check out other bean recipes you should also try my Mixed Bean Chili.
For other stew options there is also my Easy Lentil Potato Stew and my Dutch Oven Vegetable Stew.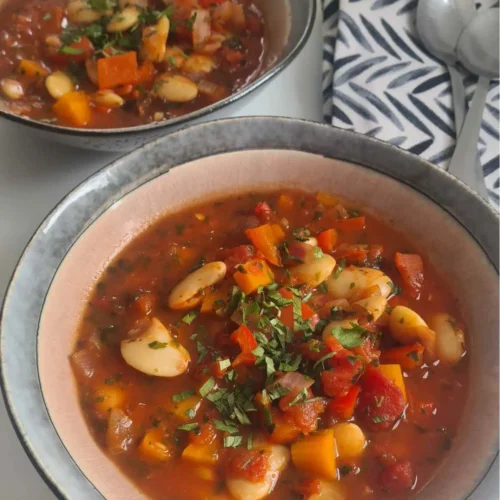 Butter Bean Stew
A nutritious butter bean stew recipe that is full of goodness. Ready in just over 20 minutes.
Ingredients
2

red onions

2

garlic cloves

2

cans

butter beans

2

cans

chopped tomatoes

1

lemon

1

tsp

cumin

1

tsp

smoked paprika

1

tbsp

oil

1

tsp

oregano

2

bell peppers

2

medium

carrots

2

bay leaves

fresh parsley

1/2

tsp

salt
Instructions
Add the oil to the pot on a hob on a medium/high heat, then add the chopped onions and finely chopped garlic

Cook for a few minutes until the onions starts to soften and become translucent

Add the oregano, cumin, and smoked paprika along with the chopped bell pepper and chopped carrots and give a good stir

Cook for another 2 minutes giving a quick stir every now and then.

Add the chopped tomatoes, drained butter beans, lemon juice, bay leaves and salt. Add 2 cups (500ml) of water) or 2 cups of prepared vegetable stock.

Bring to a boil and then down to a gentle simmer. Cover the pot with the lid and cook for another 15 minutes, stirring regularly.

Add the chopped parsley and stir in.

Serve into bowls and season with salt and pepper to taste. Add some extra chopped parsley to garnish.
Nutrition
Calories:
183
kcal
Carbohydrates:
33
g
Protein:
9
g
Fat:
3
g
Saturated Fat:
0.3
g
Polyunsaturated Fat:
1
g
Monounsaturated Fat:
2
g
Trans Fat:
0.01
g
Sodium:
410
mg
Potassium:
930
mg
Fiber:
10
g
Sugar:
10
g
Vitamin A:
4980
IU
Vitamin C:
77
mg
Calcium:
91
mg
Iron:
4
mg