More Tempeh in Our Lives
The tempeh in this curry provides a lovely satisfying texture and gives it a nice bite. Tempeh originated in Indonesia and is popular in Asian cuisines. Tempeh is made from fermented soya beans that are then pressed together into a block. It is not as processed as tofu, which is also made from soya beans, although the production process is quite different. In my opinion it is a lot nicer too.
Tofu on its own can be quite bland, whereas tempeh has more of a natural nutty flavour. Like tofu, the flavour of tempeh can be enhanced by marinating it in various herbs, spices and sauces, depending on the dish being made. In this recipe, the tempeh is coated with the spices and cooked to enhance its flavour.
It is not always available at your local supermarket and you may need to get it at your local health food shop. Although from my own observation experience, it has become more readily available in supermarkets in the last few years. Most of my local supermarkets now stock it. I love it and recommend trying it out if you haven't before. It's an excellent source of plant-based protein along with several minerals, especially manganese. You can find out more about tempeh here.
If you don't have tempeh available you can always throw in extra chickpeas, mixed beans or some extra vegetables in its place.
Tempeh Curry made with Almond Butter
The almond butter also adds a nice creaminess to this tempeh curry. Coconut milk is often added to a lot of curry recipes to provide a rich creamy flavour. It is however, quite high in calories. I use almond butter for a less calorific alternative to using a can of coconut milk, while still providing a creamy texture. Mono-unsaturated fat is also the predominant fat in almond butter, followed by poly-unsaturated fats. Coconut milk contains approximately 90% saturated fat as a percentage of total fat. If you don't have almond butter available, peanut butter is a good substitute.
A lot of curry recipes contain cumin, coriander and turmeric. The addition of cardamom to this recipe is a lovely addition to the mix of other spices. This recipe also contains curry powder. I recommend trying to find a curry powder that is not too high in salt as some brands list salt as one the first ingredients. Since ingredients must be listed in order of quantity, this means that salt is one of the main ingredients in the curry powder.
This recipe serves four generous portions and is great for making more than you need for one meal and keeping in the fridge for future lunches or dinners.
For a more nutritious meal, I recommend serving the curry with wholegrain rice. This can take around 45 to 50 minutes to cook, however if you don't have the time or patience for this, you can buy quick cook brown rice that usually cooks a lot faster. This can vary and is usually indicated on the packet instructions. Quick cook brown rice has a similar nutrition profile as the non quick cook version, its just been partially cooked, which speeds up the cooking process. Of course, it also tastes delicious with white rice.


If you are a fan of curries, you may also like my chickpea, potato and spinach curry, which you can find here.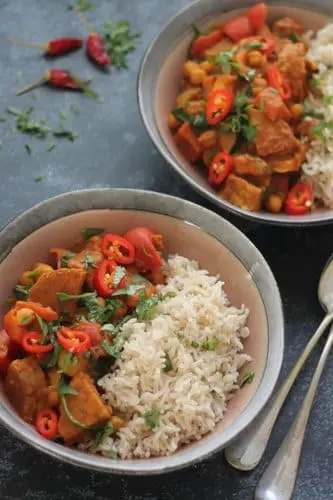 Tempeh Curry
A lovely Indian curry recipe with tempeh, chickpeas and spinach 
Ingredients
190

g

of tempeh

1

can of chickpeas

240g net weight

150

g

of fresh spinach leaves

frozen will also work

1

yellow pepper

1

red pepper

½

a medium sized courgette

2

garlic cloves

1

small

thumb sized piece of ginger

2

small/medium sized onions

or one large

400

gram

can/carton of chopped tomatoes

3

tablespoons

of tomato puree

3

tablespoons

of curry powder

1

teaspoon

of cumin

1

teaspoon

of coriander

1

teaspoon

of turmeric

½

teaspoon

of paprika

½

a teaspoon of ground black pepper

½

a teaspoon of cardamom powder

or 5 cardamom pods

4

teaspoons

of tamari

or soy sauce

2

tablespoons

of almond butter

1

fresh chili

1

tablespoon

of maple syrup

Brown rice

approx 75g of rice per person - dry pre-cooked weight
Instructions
Stick the oven on to 200 degrees Celsius

In a bowl, put in 1 teaspoon of maple syrup, 1 teaspoon of tamari, ½ a teaspoon of paprika, and a sprinkle of the curry powder. Stir all together.

Cut the tempeh into small cubes and place into the bowl. Mix will so that the tempeh is coated with the mixture. Spread the tempeh out on a baking tray and place into the oven to bake for about 20 minutes.

Peel the onion and chop. Top and tail the chili and chop into small pieces. (keep the seeds if you like extra spice). Peel the garlic and ginger and cut into small pieces. Add the chili, garlic, ginger and onion to a pot along with a tablespoon of oil and put the hob on a medium-high heat. When things start to sizzle, turn down the heat a little and stir regularly so the ingredients don't stick to the pot. 

Cook the rice according to the instructions on the packet.

After about 5 minutes once the onion has become soft, add the chopped tomatoes, the tomato puree, the remainder of the tamari and curry powder, the cumin, the coriander, the turmeric, the black pepper, the cardamom powder and the almond butter. Add 300 ml of water and turn the heat up again.

Chop up the courgette and the peppers. Add to the pot along with the spinach. Once it starts to bubble bring down to a simmer and pot the lid on the pot.

After the tempeh has been baking for about 20 minutes, ,and it starting to get a little crispy on the outside, remove from the oven. 

Add the tempeh and stir in. Once the curry has been on a simmer for around 15 minutes in total, it is ready to serve.

Serve the curry on a bed of rice.
Notes
Peanut butter can also be used in place of almond butter.  Tip: Try to find nut butter made with 100%  nuts without added oils.
Similar quantities of different vegetables can also easily be substituted according to tastes and what is available. This is the same for chickpeas where other beans can be used in their place.
Nutrition
Calories:
595
kcal
Carbohydrates:
87
g
Protein:
30
g
Fat:
14
g
Saturated Fat:
2
g
Fiber:
14
g