It's the perfect recipe for when you are looking for something quick, healthy and satisfying. Typically served with rice.
Curries are a very versatile recipe and, prepared with a multitude of spice combinations. This one aims to keep it simple for when you don't want to over-complicate things. The spices used in this recipe are coriander, cumin and turmeric along with curry powder.
Tip: Curry powders vary in their salt content. Ingredients are listed in order on packaging, with the most abundant being listed first. If you check the ingredients on the curry powder packaging and the first ingredient listed is salt, then there is more salt contained, than any other single ingredient. I look for a curry powder where salt is listed further down the list of ingredients, so I have more control over how much salt I am adding.
This recipe uses two tins of chickpeas. Dried chickpeas, pre-cooked in advance can also be used. We used peeled potatoes for the photos in this recipe, but I will also often leave the skins on the potatoes and give them a good scrub. This retains the fiber and additional nutrients from the potato skin.
A low calorie curry recipe
A lot of curry dishes contain added fats in the form of things like coconut milk, butter, cream or added oils, however this is a tomato based curry dish flavoured simply with various spices. Since fat is the most calorie dense nutrient, this can add a significant amount of extra calories to the dish. This dish is low in fat and a relatively low calorie meal overall. It is a perfect choice for a tasty and satisfying meal, without over-consuming calories. The added spinach is a great way to get some daily greens in.
We usually try and have some cooked whole grain rice on hand to re-heat. It does take some time to cook though. It is more nutritious than white rice. White rice can of course be used if you prefer, or time is short.
Tip: Add some freshly ground black pepper. Turmeric is associated with many health benefits, as a result of containing active ingredients called curcuminoids. Black pepper enhances the effects of turmeric.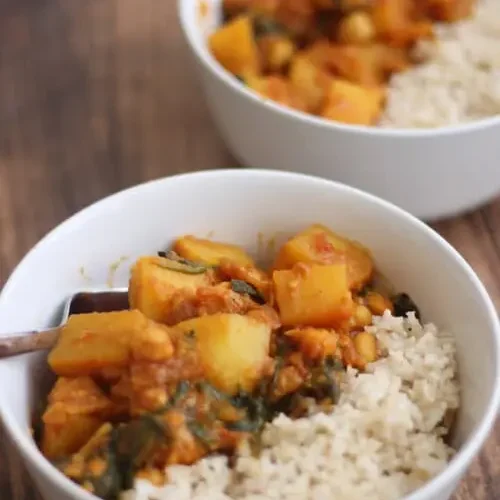 Low Calorie Spinach Potato Chickpea Curry
A low calorie curry in a hurry. A chickpea potato and spinach recipe that is ready in 30 minutes. A healthy, quick and satisfying meal.
Ingredients
900g

potatoes

(or 2 lbs)

2

400g

tins of chickpeas

2

small/medium onions

1

400g

tin of chopped tomatoes

100g

baby spinach

2

cloves

of garlic

1

chili pepper

(fresh)

1.5

tbsp

of curry powder

1

tsp

cumin

1

tsp

turmeric

1

tsp

coriander

2

tablespoons

of tamari

or soy sauce

280g

Rice
Instructions
Add the chopped onion and finely chopped garlic to a pot with a splash (around 100ml) of water on a high heat

Stir regularly until onions soften, adding more water if needed. 

Add the spices and tamari and stir for another minute

Add the chopped tomatoes and fill the empty tin with water and add to the pot

Add the chopped potatoes and chickpeas and bring to a boil

Turn down to a simmer for around 15 to 20 minutes, stirring regularly. 

Once potatoes are cooked through, add the spinach to the pot and stir in. 

Once spinach is completely wilted the curry is ready.

Serve on a bed of rice
Nutrition
Calories:
474
kcal
Carbohydrates:
104
g
Protein:
12
g
Fat:
1
g
Saturated Fat:
0.3
g
Polyunsaturated Fat:
0.4
g
Monounsaturated Fat:
0.3
g
Sodium:
545
mg
Potassium:
1338
mg
Fiber:
8
g
Sugar:
5
g
Vitamin A:
2464
IU
Vitamin C:
72
mg
Calcium:
99
mg
Iron:
4
mg