Jump to Recipe
Sometimes we don't have the time or the inclination to spend a lot of time in the kitchen but with this recipe you don't need to go for take out instead. This will be ready by the time you decide where to order from, browse the menu and order online (well pretty much).
This is the type of recipe that you don't need to go buy ingredients to make if you have a well stocked spice rack. One thing about preparing healthy home cooked meals is that it often involves a time commitment for chopping, peeling and other preparation. For this recipe, everything is pretty much ready to go except for the onion and garlic that need to be peeled and chopped.
What Type of Curry Powder Should I Use?
First of all, you should choose a curry powder based on how much spice you like. If you're not a big fan of spicy foods, perhaps a mild curry powder might be best. if you like plenty of heat, a hot curry powder shouldn't be too spicy for you.
Different curry powders also contain some variation in the mix of spices they are made up of so this might be a case of trial and error to discover the one that you like the best. Often I go with a supermarket brand but like to go for a mix from a nice artisan shop from time to time, as I find they contain more flavour.
I also try to avoid curry powder that is high in salt, preferring to add salt to taste separately. The ingredients are listed in order of volume so if you want a curry powder that is lower in salt, it should be listed further down the ingredient list. In some curry powders I've seen, its the first ingredient listed.
Cooking tips
This recipe is really straightforward. You simply cook the chopped onions and garlic on a pan in a little oil for a few minutes. Once the onion starts to soften you can throw in all the spices and stir in along with the onion. Frying the spices can help release some extra flavour.
You then just throw in the rest of the ingredients (remembering to drain the chickpeas) and stir in well. Once the curry starts to boil you can turn down and simmer for two minutes or so and the curry is ready to go.
In this recipe there is a half tablespoon of salt, however I will often make this without any added salt and then add a sprinkle directly to the curry once its on the plate.
Variations
The great thing about meals cooked in a pot such as curry and chili is that there is plenty of scope for variation of ingredients. Since this recipe is being marketed as a taking ten minutes to make, I haven't listed any additional vegetables but you can add increase the nutrition value of this recipe by adding some additional veggies such as some chopped red pepper, some sliced carrots, broccoli florets or other vegetables of choice. Due to the quick cooking time for this recipe, you might like to let the curry simmer for a little longer to allow the vegetables to soften, unless you like them a bit crunchier.
You can also use almond butter in place of peanut butter for a different flavour and maintain a creamy texture. Another option is to use 250ml (or one cup) of almond milk instead. In that case, you can leave out the half cup of water. If you want the curry to taste even more creamy, you can add some extra peanut butter (or almond butter)
I've added a little extra chili powder in addition to the curry powder but you can add this according to your own tastes, and depending how spicy your curry powder is.
To garnish I've also added some fresh coriander and a few finely chopped slices of fresh chili (for even more heat) but this is totally optional. I personally love the flavour of fresh coriander.
Quick Cook Rice
If you want to go from preparing the meal to eating in 10 minutes then you will need to use pre-cooked rice or a quick cook rice. Quick cook rices are partially cooked and you can get quick cook rice that is ready in under ten minutes (just follow the cooking instructions on the packet). If you have slightly longer then a regular basmati rice will cook in around 12 minutes.
I try to go with wholegrain rice whenever possible for the extra nutrition value, and you can also find quick cook versions of wholegrain or brown rice in the supermarket.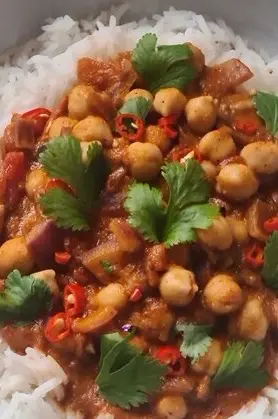 10 Minute Chickpea Curry
A Simply Curry with Chickpeas that you can make in 10 minutes
Ingredients
1

medium

onion

2

cloves

garlic

1

tin

chopped tomatoes

1

tin

chickpeas

1 1/2

tbsp

curry powder

1/2

tsp

chili powder

1

tsp

coriander

1

tsp

turmeric

1

tsp

cumin

1/2

tsp

salt

1

tbsp

olive oil

1

tbsp

peanut butter
Instructions
Heat the oil in a pan or a pot on the hob

Add the chopped onion and finely chopped garlic and cook until the onion starts to become soft and translucent

Add the dried spices and the salt and stir around for another two minutes

Add the chopped tomatoes and drained chickpeas

Add the peanut butter along with 125ml (half a cup) of water

Bring everything to the boil while stirring together ensuring the peanut butter is mixed evenly throughout the curry

Once the curry starts to bubble, bring down to a gentle simmer and cook for another 2 to 3 minutes

Selve with some pre-cooked rice and a few fresh coriander leaves (optional)
Nutrition
Calories:
199
kcal
Carbohydrates:
26
g
Protein:
8
g
Fat:
9
g
Saturated Fat:
1
g
Polyunsaturated Fat:
2
g
Monounsaturated Fat:
4
g
Sodium:
782
mg
Potassium:
497
mg
Fiber:
8
g
Sugar:
4
g
Vitamin A:
315
IU
Vitamin C:
13
mg
Calcium:
104
mg
Iron:
4
mg