You start by peeling some bananas and mashing them in a bowl. It's actually a great way of using up bananas that are starting to go brown. In our house, once they get to this stage, the kids don't want to eat them, so you can still sneak the bananas into them through these tasty bites.
Once the bananas are well mashed in a bowl, you simply add the remainder of the ingredients and mix everything together well. You then spread the mixture onto a tray for baking in the oven. I find a silicon tray is perfect for this recipe. You then place in a pre-heated oven at 180 degrees Celsius (360 degrees Farhenheit) and bake for around 22 minutes. Since ovens tend to vary a bit in their cooking time, its worth just checking in towards the end of the cooking time to make sure the mixture is not starting to look burnt.
Once ready you simply remove from the oven and leave for a few minutes to cool. You can then cut the mixture into small bite sized shapes, longer bars or whatever you like.
Breakfast on the Go
Oat banana bites are also a perfect breakfast on the go. They are a bit like a bowl of porridge, but in bar form. If you tend to be in a rush in the mornings, you can cut these into breakfast bars and eat them on the way to work. I know from experience that when I am in a rush and don't have time for breakfast, the temptation to indulge in something sweet when grabbing a morning coffee is much greater. These are a much healthier option and can provide some nourishment in the morning and reduce the temptation to have something less healthier.
Reducing Ulta Processed Foods in the Diet
Ultra processed foods now make up more than 50% of the calories that people consume in many of the more Westernised countries. These are essentially foods that are made from cheap refined food products and often contain lots of other additives. They are the types of foods that are advertised to us by big food companies and are often not the healthiest foods for us. Once we pop we can't stop. I discuss these types of foods in my post on calorie density.
We reach for these foods because they taste good and are convenient, and they are often readily available when we have a craving for something sweet. I find that having a healthier option on hand for when I have a craving for something sweet, means that I can make a healthier choice and am not as likely to reach for ultra processed treats.
Other Variations
sweeter or not so sweet – I find that these oat banana bites are the perfect level of sweetness for a snack without being too sweet. If you have a sweet tooth you may wish to add an extra tablespoon or two of maple syrup, and these bites are still going to have a lot less sugar than a lot of other options out there. If you wish to limit sugars you can also eliminate the maple syrup altogether and the bites will still have some natural sweetness from the bananas.
Add some nuts – Sometimes I add some finely chopped pecans to this recipe to provide a little more bite and a lovely nutty flavour. You could also experiment with some chopped walnuts or almonds however I haven't tried these ,myself.
Go nutless – If you want to avoid nuts you can replace the peanut butter with tahini, which is made from creamed sesame seeds. In fact, these bites could be a very handy addition to a school lunch, however a lot of schools do not allow nut products these days due to nut allergies. Replacing with peanut butter with tahini may solve this problem, although its probably best to check the list of prohibited foods with the school first to be sure.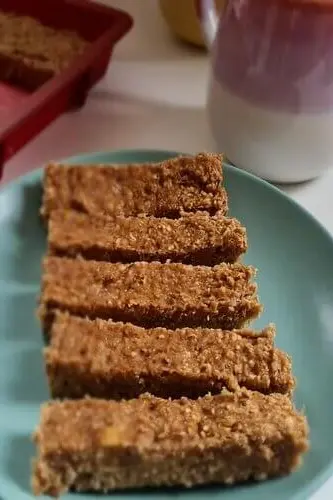 Oat Banana Bites
Delicious banana and oat bites with peanut butter and maple syrup. Perfect as a sweet treat or a handy breakfast on the go
Ingredients
4

bananas

(ripe)

180

g

porridge oats

(or 2 cups)

3

tbsp

smooth peanut butter

3

tbsp

maple syrup

1/2

tsp

salt
Instructions
Peel the bananas and place them in a bowl. Mash the bananas with a potato masher or a fork until they are a smooth mashed consistency.

Add the oats, peanut butter, maple syrup and salt.

Stir everything together until everything is well mixed together.

Empty the mixture into a silicon tray and smooth out flat with the back of a fork or a spatula.

Place in a pre-heated oven at 180 degrees Celsius (360 degrees Fahrenheit) for around 22 minutes.

Remove the tray from the oven and leave to cool for a few minutes.

Cut into bites or bars and enjoy.
Nutrition
Calories:
78
kcal
Carbohydrates:
14
g
Protein:
2
g
Fat:
2
g
Saturated Fat:
0.4
g
Polyunsaturated Fat:
1
g
Monounsaturated Fat:
1
g
Sodium:
69
mg
Potassium:
137
mg
Fiber:
2
g
Sugar:
5
g
Vitamin A:
15
IU
Vitamin C:
2
mg
Calcium:
10
mg
Iron:
0.5
mg