Pasta Arrabiata Means Angry Pasta
Pasta arrabiata literally literally means "angry pasta" in Italian. The anger in this dish comes from the spiciness of the tomato sauce through the addition of fresh chilies. This is a basic dish that can be made quickly and on a budget, and the combination of the chilis, garlic and herbs create a wonderful flavour.
The simple flavours of the garlic and Italian herbs, along with the sweetness of the tomatoes complemented with a little additional sweetness from the maple syrup and some tanginess from the vinegar is a real hit.
It's great to have a few go-to quick dishes up your sleave for when don't want to spend too long in the kitchen after a long day at work, and this pasta arrabiata dish fits the bill nicely. The sauce can be prepared when the pasta is cooking and is nearly ready to go once the pasta is cooked.
The aubergine can be substituted for other vegetables based on taste and what you have available such as courgette or broccoli. You can also mix in some fresh spinach leaves to get some more healthy green leaves into your daily diet and they will wilt down to virtually nothing. You can add them close to the end of the cooking process, the heat should wilt the leaves in a few minutes.
Fresh basil really adds to the flavour if you have it available, however the recipe still works well without it.
Tip: Frozen chopped fresh basil is now available more and more and is handy to have on hand in the freezer when needed.
Heat in the form of spiciness is really to everyone's personal taste, and is also related to how often you eat spicy foods. Regularly eating spicy meals can help you build up a tolerance. I remember cooking a meal for some of my wife's family in France and they could barely eat it, and were practically crying, when I only found the meal mildly spicy. Chili is not a regular part of their cuisine.
I have gone with three chilis of medium heat for this one since I really think the heat adds to this dish. If you prefer things a bit milder, you can turn down the heat and add less chili. Leaving the seeds in also adds to the heat. If you don't have fresh chili available, dried chili powder or cayenne pepper also works well. I go with two teaspoons of either, but this can of course be reduced to tone down the heat.
This recipe uses wholegrain pasta since wholegrain flour is more nutritious and contains more fibre than white flour. Wholegrain flour is made from the entire grain as the name implies, encompassing the bran, the germ and the endosperm. Refined flour has the bran and the germ removed. Wholegrain pasta only takes a few minutes longer than white pasta to cook.
Although try to use wholegrains as much as possible myself and recommend people to do the same, the recipe also works perfectly well with white pasta. You can learn more about wholegrains and the associated health benefits from the BDA factsheet here.
This recipe makes 4 good sized portions, and is an easy one to double up on if you have additional mouths to feed.
If you like quick pasta dishes, check out some of my other pasta recipes such as my 15 Minute Healthy Creamy Pasta Sauce with Cashew and Tomatoes and my Creamy Mushroom and Spinach Pasta recipes.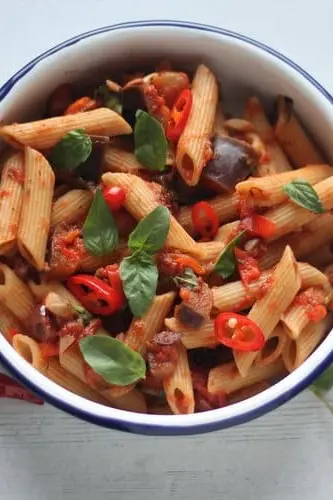 Penne Pasta Arrabiata with Aubergine
A quick and simple penne pasta arrabiata recipe with aubergine, based on simple but delicious flavours with Italian herbs and spicy chilies
Ingredients
400

g

wholewheat Penne pasta

2

400g

plum tomatoes tins

1

bunch of fresh basil

3

cloves

of garlic

1

tbsp

of apple cider vinegar

2

fresh chilies

1

tbsp

of maple syrup

1

aubergine

15

black olives

pitted and halved

1

tbsp

of dried oregano
Instructions
Get the pasta into a pot of boiling water and cook according to instructions. 

Peel the garlic and finely chop the garlic and chilies. Leave the seeds in from the chilies for extra heat, otherwise remove. Chop up the aubergine. 

Put a pan on a medium to high heat and add a tablespoon of oil. Add the garlic, chilies and aubergine. Stir once they start to sizzle so nothing sticks to the pot. 

After two minutes add the plum tomatoes to the pan. Bash them up with a wooden spoon until they have reached the desired chunky pasta sauce. 

Add the cider vinegar, maple syrup, oregano and olives, and bring to the boil. Reduce to a simmer for about ten minutes, stirring regularly. 

Add the basil and give a stir. 

Add the cooked and drained pasta to the pot, mix thoroughly with the sauce and serve. 
Nutrition
Calories:
425
kcal
Carbohydrates:
88
g
Protein:
17
g
Fat:
4
g
Saturated Fat:
1
g
Polyunsaturated Fat:
1
g
Monounsaturated Fat:
2
g
Sodium:
248
mg
Potassium:
593
mg
Fiber:
5
g
Sugar:
8
g
Vitamin A:
330
IU
Vitamin C:
36
mg
Calcium:
90
mg
Iron:
5
mg