Dahl (also spelt dal and dhal) is an Asian recipe made with pulses (ie beans and lentils) and seasoned with various spices. This dahl recipe is simple, quick and satisfying using red lentils as the pulse for this recipe.
When trekking in Nepal with my wife (then fiance) Violine, probably the most popular meal in the villages we stopped to eat in along the way was dahl bhat. This is a combination of dahl and loads of rice and was often served with some other additions such as cooked greens, pickled vegetables and poppadoms. It tasted amazing after a few hours of walking up mountains (although being honest, so would any form of sustenance) It was very satisfying and you could still get moving again shortly after for another few hours on the trails.
The version of the dahl is Nepal was more soup like in texture compared to this version, which is thicker. This is a very comforting meal, and works well with rice. It is also really well suited for batch cooking and prepping your meals in advance, and still tastes great after a few days in the fridge or a month in the freezer. Just heat (or de-frost and heat) and serve.
I recommend whole grain rice if you have the time to cook it for the extra fibre and nutrients. If you don't want to wait around 40 minutes for your brown rice to cook, you can also buy easy cook versions, which have been partially cooked already and so take less time.
Lentils a very nutritious food. They are high in protein and fibre, low in calories, low in fat, with zero cholesterol. You can read more about their health benefits here.
Fun fact for the lentil geeks out there. Red lentils are already split so cook pretty fast if you're in a hurry (and who isn't these days). The longer you cook them the more they disintegrate into a soup like texture.
If you love red lentils, you should also try a fantastic chickpea and red lentil soup. It's awesome.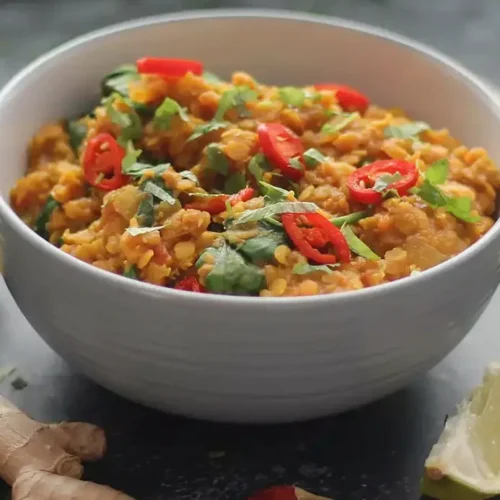 Easy Red Lentil Dahl
A quick simple and comforting red lentil dahl. Dahl is an Asian stew made with pulses, and seasoned with various spices. This healthy dahl recipe is based on red lentils and is quick to made and ideal for freezing.
Ingredients
500

g

red lentils

500

ml

vegetable stock

1

litre of water

400

g

chopped tomatoes

1

large onion

3

garlic cloves

1

red pepper

1

small courgette

zucchini

100

g

baby spinach

1

tsp

of turmeric

2

tsp

of cumin

3

tsp

of garam masala

2

tbs

tamari/soya sauce

Juice from one lime

1

thumb sized piece of ginger

1

fresh chili

Some fresh coriander

cilantro to garnish
Instructions
Prepare the vegetable stock with hot water

Get a pan nice and hot and add the chopped onions. Dry sauté the onion for a few minutes moving the onions around the pan so they don't stick. Once the onions and the pan start to brown, add the chopped garlic. 

Cook for another 30 seconds, and add the stock. Stir in the de-glaze the pan. 

Add the chopped tomatoes along with 1 litre of boiling water and bring to a boil. 

Add the lentils, the de-seeded and chopped pepper, and the chopped courgette. 

Peel the ginger and grate into the pot. Add the turmeric, cumin, garam masala, tamari and finely chopped chili (keep seeds for extra heat). Stir everything together. 

Once everything starts to boil, bring down to a gentle simmer for around 20 minutes. Stir regularly to avoid sticking. 

Add spinach and cook for another few minutes until the spinach is fully wilted. 

Add chopped fresh coriander and serve with cooked rice. 
Notes
One litre of additional water gives a nice soupy consistency. You can add a little more or less water depending on how thick you would like the dahl to be. 
Red lentils break apart the longer you cook them. You can cook a little longer if you prefer this consistency. 
Nutrition
Calories:
261
kcal
Carbohydrates:
45
g
Protein:
19
g
Fat:
1
g
Saturated Fat:
0.2
g
Polyunsaturated Fat:
0.5
g
Monounsaturated Fat:
0.2
g
Sodium:
588
mg
Potassium:
958
mg
Fiber:
21
g
Sugar:
4
g
Vitamin A:
1980
IU
Vitamin C:
40
mg
Calcium:
80
mg
Iron:
6
mg