A nut roast works well as a centerpiece in a meal as an alternative to meat. We often make one for family events as a veggie option. It works perfectly with many of the foods that are often served as part of a family meal such as gravy, roast potatoes, mashed potatoes, and a mix of vegetables (even brussels sprouts).
Preparing the Nut Roast Ingredients
To prepare the nut roast, the first step is to chop all of the ingredients to the required size. I prefer to use my Ninja food processor to pulse the nuts and mushrooms (separately). I find it quicker and less messy than chopping by hand, especially for the nuts.
Next I like to finely chop the celery, the onion, garlic, parsley and the sundried tomatoes. For this recipe I have used sun-dried tomatoes in oil, however you can also use the dried variety.
Pan Fry the Onions, Garlic, Celery and Mushrroms
You then add a little oil to a pan on a medium/high hob and fry the onions and garlic for about 5 minutes. Then add the chopped celery, fry for another minute and add the mushrooms. Cook for another 5 minutes, keeping everything moving around the pan, and the onions should release some of their moisture.
The next step is to add all of the ingredients to a bowl ensuring the bowl is big enough to allow everything to be mixed together. At this stage, I have chopped all of the ingredients, except the carrot, which you can grate directly into the bowl.
Once everything is mixed together its time to transfer to a baking container. You can either line a baking tin with parchment paper or use a silicon baking container.
Personally I like to use silicon as I think it works really well and there is no waste. The container I used was 9 inch (23cm) long x 4 inch (10cm) wide x 2.5 inch (6.5cm) deep. This was plenty big enough so a slightly smaller container would also be suitable.
You spread the mixture into the baking container and even out with the back of a fork.
A Gluten Free Nut Roast
This vegan mushroom nut roast is also a gluten free option. Often breadcrumbs are used in nut roast recipes but these contain gluten (unless gluten free bread is used). This recipe also used corn flour to help bind everything together, and corn flour does not contain gluten. (however it's always worth checking the label if you are particularly sensitive to gluten). If not wishing to avoid gluten, regular plan flour can also be used in place of corn flour.
This nut roast tastes great hot or cold and can be served with a variety of side dishes.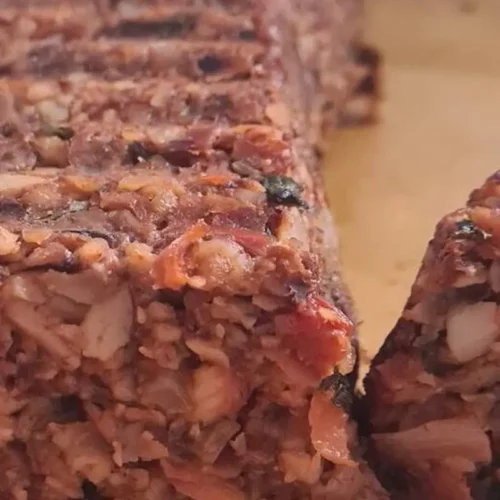 Ingredients
300

mixed nuts

150g

chestnut mushrooms

50g

shiitake mushrooms

1

onion

(medium, chopped)

120

g

carrots

(one medium large carrot)

2

cloves

garlic

(finely chopped)

1

tbsp

thyme

(dried)

2

tbsp

soy sauce

(or tamari)

2

tbsp

tomato puree

4

sun-dried tomatoes

40

g

fresh parsley

1

tbsp

oil

1

stick

celery

(finely chopped)

2

tbsp

balsamic vinegar

2

tbsp

cornflour
Instructions
Place the mixed nuts into a food processor and blend until they are broken down into small pieces. Set the nuts aside in a big bowl.

Add the mushrooms to the food processor and pulse until the mushrooms have been broken down into small pieces as if they have been very finely chopped (you can also chop them but this is quicker)

Add the oil to a pan on a medium heat and then add the onions and garlic. Fry for about 5 minutes until the onions starts to become soft and translucent. Add the celery and cook for another minute.

Add the mushrooms and cook for another 5 minutes, keeping everything moving in the pan. Then set aside for a minute and allow to cool down a bit.

In the bowl along with the chopped nuts, add the thyme, tomato puree, soy sauce and balsamic vinegar.

Grate the carrot and add bowl. Chop the sun-dried tomatoes into small pieces and add to the bowl.

Remove the stems from the parsley. Chop up the parsley and add to the bowl.

Add two tablespoons of water and mix all of the ingredients in the bowl together until everything is mixed together evenly. Sprinkle on the 2 tablespoons of cornflour and mix everything together until the cornflour is mixed in evenly.

Line a baking tin with parchment paper or use a silicon baking container. Add the nut roast mix from the bowl and flatten out with the back of a fork.

Place in a pre-heated oven at 180 degrees Celsius (355 degrees Fahrenheit) and cook for around 40 minutes.

Remove from oven and leave the nut roast to cool for 10 minutes.
Nutrition
Calories:
370
kcal
Carbohydrates:
23
g
Protein:
11
g
Fat:
28
g
Saturated Fat:
4
g
Polyunsaturated Fat:
6
g
Monounsaturated Fat:
17
g
Trans Fat:
0.01
g
Sodium:
372
mg
Potassium:
686
mg
Fiber:
7
g
Sugar:
4
g
Vitamin A:
4035
IU
Vitamin C:
15
mg
Calcium:
77
mg
Iron:
3
mg