Preparing couscous
CousCous is incredibly easy to prepare so is a great option if you are short on time. You simply add boiling water to the couscous in a one to one ratio in a bowl. For this it helps to use some sort of measuring container to pour the couscous into a bowl. You then note the level on the measuring container that the couscous reached and add the same volume of boiling water, then pour into a bowl.
Once the boiling water is added you cover the bowl with something such as a saucer to keep the heat in. Simply wait for around 7-8 minutes or until the couscous has absorbed all of the water, and then it's ready to serve.
This recipe is made with some turmeric and chopped dates, so you just fluff the couscous with a fork and then mix it around so the turmeric is mixed evenly. One tip is to use a bowl that has some room to spare at the top since the stirring can get a bit messy if the bowl is nearly full.
Perfectly Roasted Aubergines
To prepare the aubergine, you cut the ends off, and then cut them in half lengthways. You then pierce the inside of the aubergines with a knife, in horizontal and vertical lines, trying not to pierce deep enough to cut through the skin of the aubergines. It's best to please the aubergines on a flat surface such as a chopping board and ensure you are cutting away from the hand that is not holding the knife, in order to avoid any accidents.
Once the aubergines are pierced, you drizzle lightly with some olive oil, and then spread a layer of miso over the inside surface of the aubergines.
Note: Miso is very high in salt so I recommend not going too heavy on the miso, especially if you are monitoring your salt intake. The brand of brown rice miso I used contains 12.7g of salt per 100g.
Once the aubergines are prepared, you place them in a pre-heated oven at 190 degrees Celcius (375 Fahrenheit) or 170 degrees Celcius (340 Fahrenheit) in a pre-heated fan oven and cook for around 35-40 minutes. Oven cooking times can vary so its best to check on the aubergines as they are getting close to their cooking time to ensure they are not over-cooked.
The goal is for the inside of the aubergines to be nice and soft. If they are under-cooked they can have a slight rubbery (is that a word?) texture.
A Side of Wilted Spinach (with no oil) with a Hint of Lemon
Wilted spinach is a perfect accompaniment to this dish. Its really easy to prepare and you don't need added oil to cook it. You add the (washed if needed) spinach to a non-stick pan on the hob on a medium heat. Then add a squeeze of lemon juice along with the finely chopped garlic and grated ginger.
Cook on a medium heat heat until for a few minutes until the spinch has wilted stirring around occasionally. It doesn't usually stick to the pan for me but its good to keep it moving around to enure this doesn't happen.
Serving Variations
Serve with a different grain – this recipe also works really well served with rice
Instead of using chopped dates to add sweetness to the couscous, I've also tried this with goji berries and mulberries and both taste good.
If you have cumin seeds to hand, a sprinkle of these on the aubergines before cooking adds a lovely additional flavour
Instead of serving with wilted spoinach you could also try serving with my mushroom and spinach side dish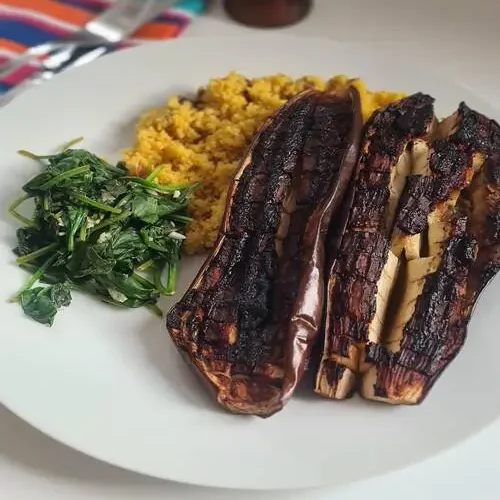 Roasted Miso Aubergine Served With CousCous and Wilted Spinach
A lovely combination for this recipe with roasted miso aubergine served with some sweetened rturmeric couscous and wilted spinach with lemon and ginger.
Ingredients
The Miso Aubergines
2

aubergines

30

g

brown rice miso

1

tbsp

olive oil
The Turmeric Couscous
150

g

wholegrain couscous

1/2

tsp

turmeric

4

dates (pitted)

boiling water
Wilted Spinach
200

g

baby spinach leaves

1

clove

garlic

(finely chopped)

1

tsp

grated ginger

1

tbsp

lemon juice
Instructions
Miso Baked Aubergines
Prepare the aubergines by cutting the ends off and then cutting in half lengthways. Place each half aubergine on a flat surface, skin down, and pierce the inside of the aubergine in vertical lines being careful not to pierce through the skin at the bottom. Cut away from your hand for safety. Repeat the process horizontally.

Drizzle a little olive oil along the inside of each aubergine and then apply a thin layer of miso with a knife

Place the aubergines on a baking sheet on a tray in a preheated oven, skin layer down. The oven should be pre-heated to 190 degrees Celsius (340 Fahrenheit) or 170 degrees Celcius (340 Fahrenheit) for a fan oven. Cook for 35 to 40 minutes, until the aubergines are soft all the way through.
Wilted Lemon Spinach
Add the washed spinach into a non-stick pan on a medium heat. Add the garlic, ginger and lemon juice.

Cook on a medium heat until the spinach is wilted, stirring the spinach regularly to ensure it doesn't stick to the pan. This should take 5 to 10 minutes.
Turmeric CousCous with Dates
Finely chop the dates. Add the couscous to a bowl along with the turmeric and the dates. Mix everything evenly.

Pour the same volume of boiling water as the couscous over the couscous. Cover the bowl with a saucer and leave to sit for around 7 minutes. Once the couscous has absorbed all of the water you can fluff it up and iit'ss ready to serve.
Nutrition
Calories:
551
kcal
Carbohydrates:
108
g
Protein:
20
g
Fat:
11
g
Saturated Fat:
1
g
Polyunsaturated Fat:
2
g
Monounsaturated Fat:
5
g
Sodium:
649
mg
Potassium:
1761
mg
Fiber:
25
g
Sugar:
28
g
Vitamin A:
9497
IU
Vitamin C:
42
mg
Calcium:
185
mg
Iron:
7
mg