Energy balls are all the rage these days and can be found on display in many coffee shops, as a tempting addition to your morning Joe. But what if you want to enjoy an energy ball with your morning coffee at home? What a dilemma! Well, the good news is that they are very simple to make. These ones made with an orange zest are particularly delicious. I prefer them to many of the ones in the coffee houses, but maybe I'm biased.
These can be made in about 15 minutes and all you need is a reasonably strong blender, a grater and six ingredients.
I tried these with the additional attachments that came with a new hand blender and they turned out perfect. Once the blender is powerful enough to blitz the dates and almonds, you should be good.
A Healthier Option for a Sweet Treat
We all enjoy a sweet treat from time to time. We're only human.
This can lead us to reach for the vending machine or the biscuit tin or down the confectionary isle of the supermarket. These food choices are often made from refined ingredients and various other additives.
Its healthier if we can satisfy our sweet tooth without too much refined sugar and syrups, processed fats and additives.
These orange zest energy balls are made without any refined sugar, using dates for sweetness with just a touch of maple syrup. Almonds and coconut are both whole foods, with nuts in particular being associated with many positive health outcomes.
The squeezed orange juice and zest provide a lovely orange flavour.
Ingredients:
These orange energy balls are made from just six ingredients (or really 5 ingredients since we're counting the orange juice and zest as 2 ingredients):
Almonds
Pitted dates
Desiccated/shredded coconut
Peanut butter
Maple syrup
Orange
How to Make the Orange Energy Balls
These energy balls are very easy to make and the main thing you need along with the ingredients is a good blender.
You first place the dates in the blender, and pulse them until they are well chopped. You might need to scrape the sides of the blender down a few times during the process. If you are using non-pitted dates, you just need to make sure you take all of the stones out first.
Then you set the dates aside and add the rest of the ingredients to the blender, except keeping about half of the coconut in reserve.
Pulse everything until nice and smooth.
Add the dates back and pulse again until everything is well mixed together.
Then you sprinkle some of the coconut onto a plate.
Roll the mixture into little balls and roll gently over the coconut to coat the balls with coconut.
Repeat until the mixture is used up.
If you are not familiar with zest, it is the grated outer skin of the orange. I use a zester, but if you don't have a zester you can also use a fine grater.
This mixture makes around 12 energy balls, depending on how big you make them, and how much of the mixture gets eaten in the production process. You can keep them in the fridge and have your coffee breaks sorted for the week. Tip: Hide these on your children, other family members, house mates and anyone who has access to your fridge, or they won't last too long.
Other Healthier Sweet Treats
If you enjoy making your own sweet treats then I have a few recipes that you must try out:
My Oat Banana Bites are a go-to recipe for me when I am working from home and want to avoid the temptation of the biscuit tin. They are really quick and easy to make.
These Peanut Butter Oat Cookies are also very tasty and something you can make a batch of in no time.
If you have a little more time, these Vegan Caramel Slices are a real treat. They are similar to the caramel slices you find yourself looking at longingly through the glass, while waiting in the coffee queue at the local café, but a healthier version.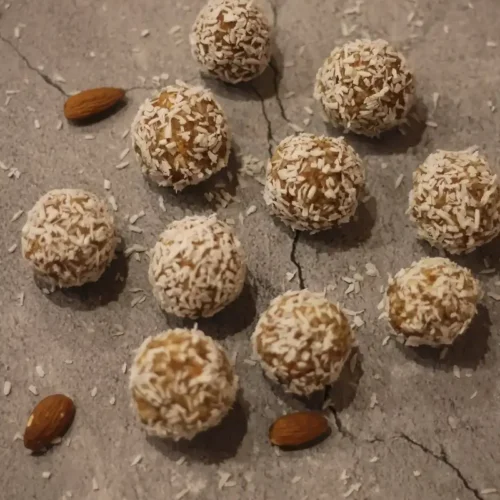 Orange Energy Balls
Orange energy balls made with dates, almonds and orange zest. Perfect to indulge a sweet tooth. 
Ingredients
100

grams

almonds

100

grams

dates

(pitted)

75

grams

desiccated coconut

1

tbsp

of peanut butter

1

tsp

of maple syrup

1/2

orange

(zest from)

1/2

orange

(juice from)
Instructions
Put the dates (ensure they are pitted) into a blender and pulse until well chopped

Set the dates aside and add the remaining ingredients to the blender (only adding about half of the desiccated coconut)

Pulse until the almonds are ground

Add the dates back to the rest of the ingredients and pulse until everything is mixed together

Sprinkle the remaining desiccated coconut onto a plate

Roll some mixture from the blender into a little ball and roll in the coconut in order to coat them 

Repeat until all of the mixture is used up

Enjoy
Nutrition
Calories:
128
kcal
Carbohydrates:
12
g
Protein:
3
g
Fat:
9
g
Saturated Fat:
4
g
Polyunsaturated Fat:
1
g
Monounsaturated Fat:
3
g
Trans Fat:
0.002
g
Sodium:
8
mg
Potassium:
178
mg
Fiber:
3
g
Sugar:
8
g
Vitamin A:
25
IU
Vitamin C:
6
mg
Calcium:
33
mg
Iron:
1
mg