The green lentils replace the meaty texture and take on the satisfying flavour of the herbs and other ingredients. Lentils are a great plant-based source of protein and come packed with nutrients and fibre.
This does require a little time investment at the start, but once you put it in the oven you are done until its ready to serve. As a warming and satisfying meal, its probably more suited to the dark cold evenings Autumn/Winter evenings, so will suited for Ireland at the time of writing, but we make it throughout the year.
Not everyone has bay leaves on hand. Luckily we have a bay tree in the garden so this recipe often involves a search in the garden with a torch in the dark, since I lack the forward planning to pick a bunch of bay leaves in advance for future recipes. I recommend getting a bay tree if you have a garden and do a bit of cooking, since you then have a ready supply of bay leaves for whenever you need them.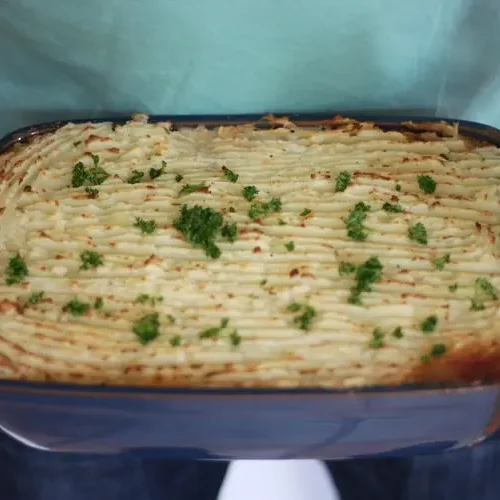 Veggie Shepherd's Pie With Lentils
A satisfying and delicious healthy veggie shepherd's with lentils. A family favourite. 
Ingredients
1.2

kg

potatoes

800

g

chopped tomatoes

(2 X 400g tins or cartons)

1

stalk of celery

(chopped)

2

onions

(medium sized, chopped)

1

tbsp

olive oil

2

tablespoons

soy sauce

or tamari

3

garlic cloves

(finely chopped_

2

carrots

(medium, chopped)

2

bay leaves

1

tablespoon

oregano

1

tablespoon

maple syrup

300

g

green lentils

(dried)

150

g

peas

(frozen or fresh)

100

ml

oat milk

(or other plant milk)

Salt and pepper to season

Fresh chopped parsley to garnish

optional
Instructions
Put the lentils into a pot, with about three times the volume of boiling water. Put the pot onto a high heat, then turn down to a simmer once the pot starts to boil, stirring regularly.  

 Peel the potatoes (or just wash them if you want to leave the skins on for extra fibre). Cut the potatoes into cubes for quicker cooking. Place into a pot, cover with water, and put on a high heat. Turn down to a simmer once they start to boil.

Add the oil to a pot on a medium high heat along with the onions. Sauté the onions for a few minutes until they start to get soft, then add the garlic, celery and carrots. Add the oregano, bay leaves, tamari and maple syrup and give a good stir. Add the chopped tomatoes, and peas and stir everything up.. Cook for another few minutes, stirring regularly, then add the chopped tomatoes.

Turn the heat and once everything starts to bubble, turn down to a gentle simmer, stirring regularly.

Turn the oven on to 220 degrees Celsius (430 degrees Fahrenheit).

After the lentils are on for about 20 minutes, they should be quite soft. Drain them and add them to the big pot with the rest of the ingredients and mix everything together.

Transfer everything to a large shepherd's pie/lasagne dish.

After the potatoes have been simmering for about 20 minutes, they should be soft, which can be tested by piercing one with a sharp knife. The knife should not meet much resistance right the way through the potato. Drain the water and add 100ml of oat milk. Season with some salt and pepper and mash with a potato masher.

Once the potatoes are completely mashed, add to the shepherd's pie dish as a layer on top of the rest of the ingredients and spread out evenly with a fork. Put the dish in the oven for about 20 minutes at which point the potato should start to brown a little on top.

 Remove the dish from the oven, garnish with chopped fresh parsley, and serve.
Nutrition
Calories:
463
kcal
Carbohydrates:
89
g
Protein:
22
g
Fat:
4
g
Saturated Fat:
1
g
Polyunsaturated Fat:
1
g
Monounsaturated Fat:
2
g
Sodium:
552
mg
Potassium:
1937
mg
Fiber:
25
g
Sugar:
16
g
Vitamin A:
3953
IU
Vitamin C:
68
mg
Calcium:
164
mg
Iron:
8
mg